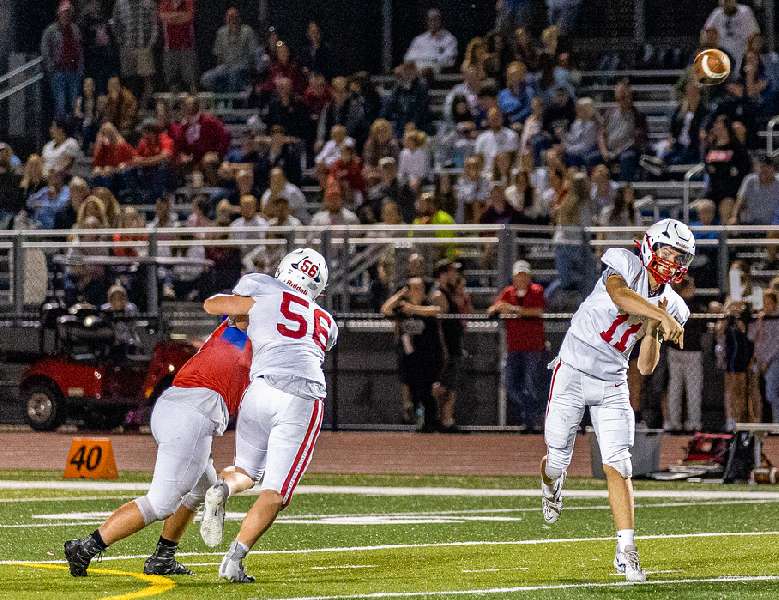 WAVERLY SETS TONE EARLY; BLANKS OWEGO, 35-
By: Tim Birney | Waverly Athletics | September 9, 2022 | Photo courtesy David Alliger
OWEGO — Waverly played a near-perfect first half, and scored on its first four possessions of the game to take a 28-0 halftime lead on its way to a 35-0 win over Owego here Friday night in Section IV football action.

The Wolverines piled up 281 yards in total offense in the first half.

"I thought we looked pretty sharp offensively," said Waverly coach Jason Miller.

"When we ran the ball, we did it effectively," he noted. "(Joey Tomasso) was pretty accurate with his throws, and the receivers caught the ball ... a lot of guys touched the ball, we were able to spread it around.

"Our receivers did an outstanding job blocking on the perimeter, and I thought our backs did an outstanding job blocking on the perimeter when we ran outside.

"Overall, there were a lot of contributions on both sides of the ball," added Miller. "It was nice to see. It was a pretty solid performance."

Tomasso completed 15 of 23 passes for 216 yards and one TD. He was 13 of 18 for 201 yards in the first half alone.

"We talked about their offense all week, we know what they're capable of," said Owego coach Steve Virkler. "They won the state tournament in 7-on-7 for a reason … because they're very good, they're well-coached, and they do a good job with their offense.

"And, Joey (Tomasso) is as good as I've seen at quarterback around here since I've been coaching," he noted. "He throws the ball on the money, he's smart, and he gets rid of it so quick you can't really get to him.

"It's hard to prepare for that, and they do a good job of feeding those guys in the backfield and running the ball," Virkler added.

Tomasso's outing was a marked improvement from the season-opener, which saw him throw for 111 yards, two TDs, and three interception.

"It was just a different coverage. (Chester) was a hard-press man last week and they were athletic … we struggled in our routes getting separation from the defenders," said Miller. "I figured tonight, with the soft zone and being a little more athletic than (Owego), they would have to back off. It just opens up the flat game, and we were able to utilize that, especially out of Trips."

The Wolverine defense limited Owego to just 91 yards in the first half, with 45 yards coming on a fake punt late in the second quarter.

"I thought we set the tone up front," said Miller. "Kam (Hills) and Troy (Beeman) did a really good job there.

"Isaiah (Bretz), Nate (DeLill) and Gage (Tedesco) set the edge from the outside backer spot, and I thought Connor (Stotler) and Ty (Beeman) played outstanding on the inside," noted Miller. "As an under-sized backer, I thought Connor really took on a lot of blocks, fought through them and made some big plays.

"Defensively, we were swarming to the ball," he added.

Waverly took the opening kickoff and marched 64 yards on six plays, culminating with a 36-yard TD strike from Tomasso to junior Carter George with 9:03 remaining in the first quarter. It was the first catch of George's career.

The key play on the drive came on the play just prior to the TD pass when Owego was flagged for offsides, with the Wolverines facing a fourth-and-3 at the Indian 41.

Senior Ryan Clark's PAT kick gave Waverly a 7-0 lead.

Owego took over at its own 17 on the ensuing possession, and quickly faced a fourth-and-6 at its own 21. Steven Bidwell averted disaster when he fielded a low snap, and took off toward the visitor's sideline, picking up 7 yards for a first down.

Three plays later, however, the Indians punted and Waverly took possession at its 23.

The Wolverines went to the air on its first two plays, with junior Jake VanHouten's first career reception netting 12 yards, and junior Jay Pipher hauling in a pass for 23 yards to move the ball to the Owego 42.

Five plays later, including a 25-yard pass from Tomasso to Pipher, senior Gage Tedesco bulled in from 5 yards out for a score. Clark's PAT kick made it 14-0 with 2:53 remaining in the first quarter.

The Indians picked up a first down thanks to an illegal hit by the Wolverines on their next possession, but once again punted the ball away, with Waverly taking over at its own 42.

Mixing the run and the pass, Waverly drove 58 yards on 10 plays to take a 21-0 lead with 7:02 remaining in the first half.

Senior Kayleb Bechy ripped of runs of 12 and 9 yards to start the drive, and senior Braeden Hills later added an 8-yard run to give the Wolverines a first down at the Owego 17.

After a 10-yard pass to VanHouten, and a 6-yard toss to Stotler, Tedesco bulled in from 1 yard out for the score.

Waverly had the ball back moments later when Tedesco intercepted a pass at the Indian 27 on Owego's first play of the ensuing possession

After a 10-yard pass from Tomasso to DeLill on second down moved the ball to the Owego, Pipher picked up a big block from Braeden Hills on a jet sweep and sprinted 13 yards to paydirt with 5:40 remaining in the first half. Clark's PAT kick made it 28-0.

On its next possession, Bidwell lined up to punt again as Owego faced a fourth-and-3 from its own 17, but the senior punter took off and rumbled 45 yards to the Waverly 38. A face-mask call on the play moved the ball to the 23.

A pair of penalties for illegal motion, and a holding penalty eventually put the Indians in a third-and-24 situation at the Waverly 37. Two incompletions later, Owego turned the ball over on downs with 28.9 seconds remaining in the half.

An 11-yard pass to George, and a 17-yard pass to senior Isaiah Bretz, sandwiched around an incompletion, moved the ball to the Owego 35 with 9.4 seconds left in the half.

On the next play, Tomasso found VanHouten open down the middle of the field. The speedy junior raced inside the 5, but fumbled at the Owego 3 as time expired in the first half.

"That was a really good play at the end of the half," said Miller. "I know Jake (VanHouten) fumbled it trying to get in the end zone … that's something new that we've been working on.

"It was nice to see the kids execute it in that critical situation, moving the ball in 38 seconds down the field," Miller added.

The Indians, whose average starting field position was its own 15 in the first half, took possession at its own 20 following Clark's third touchback in five kickoffs. The other two were mishandled inside the 10, and Owego started at its 10 and 17, respectively.

"Again, Ryan Clark did a great job kicking the ball," said Miller. "He had three or four touchbacks … when you're pinning the other team inside their 20, and you have a pretty good defense, which we do, it's tough to drive 80 yards down the field."

After a trade of punts to start the half, the Wolverines defense stopped the Indians on downs at the Owego 48.

After a 4-yard run by Bechy to start the possession, Braeden Hills ripped off a 17-yard run, and Stotler followed with an 18-yard run. Bechy capped the four-play, 52-yard drive with a 9-yard TD run with 1:02 remaining in the third quarter. Clarks's PAT kick made it 35-0.

With sophomore Conlan Taylor, senior Cameron Card, and sophomore Evan Wasilewski doing the majority of the work on the ground, and a 16-yard completion from sophomore QB Elijah Lewis to 6-6 sophomore tight end Zach Bensley, Owego moved the ball to the Waverly in 10 plays.

On first-and-goal at the 1, Stotler penetrated and stopped Lewis short of the goal line. After an illegal procedure moved the ball back five yards, Taylor, who had a 20-yard run to put the ball at the 1, gained three yards to the Waverly 3.

Facing fourth-and-goal at the 4, a botched snap put the ball on the ground, and Braeden Hills pounced on it to end Owego's 8 1/2-minute possession.

Miller was pleased to see his second-team defense keep the Indians off the scoreboard late in the game.

"It was nice to see our second team to get the job done," he said. "We preach 'if you're in, do your job,' and the young kids did.

"We didn't tackle very well in the second half," added Miller. "We were trying to lay hits, instead of tackling, but that's something we'll work on."

VanHouten led Waverly with four receptions for 65 yards, and DeLill had four grabs for 27 yards, while George had two catches for 63 yards and one TD, Pipher had two catches for 48 yards, and Bretz had to grabs for 17 yards.

The Wolverines rush for 141 yards on 22 carries in the win. Bechy led the way with 34 yards and one TD on four carries, while Tedesco added 30 yards and two TDs on six carries, Hills had 25 yards on two carries, and Stotler chipped in with 21 yards on two carries.

Owego rushed for 185 yards on 35 carries. Bidwell led the way with 84 yards on 10 carries, and Taylor added 44 yards on nine carries.

Lewis completed 5 of 16 passes for 31 yards, and was intercepted once.

Waverly, now 2-0, hosts Newark Valley Friday night, while Owego (0-2) travels to Chenango Valley.
About the Author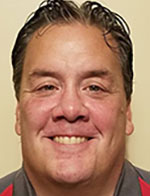 Tim Birney is the founder / owner of River Road Media Group. He was born and raised in the Valley, graduating from Waverly High School in 1984.
Birney earned an Associate's Degree in Journalism from SUNY Morrisville in 1986 and a Bachelor's Degree in Journalism / Public Relations from Utica College of Syracuse University in 1988. He began his newspaper career at The Daily Review in Towanda in 1989, before moving on to The Evening Times in 1995. He spent more than 10 years at the Times, the last four as Managing Editor.
River Road Media Group includes Valley Sports Report (launched Aug. 10, 2009), Tioga County (NY) Sports Report (Aug. 13, 2018), and Northern Tier Sports Report (Aug. 31, 2020). Southern Tier Sports Report is set to launch in 2021.