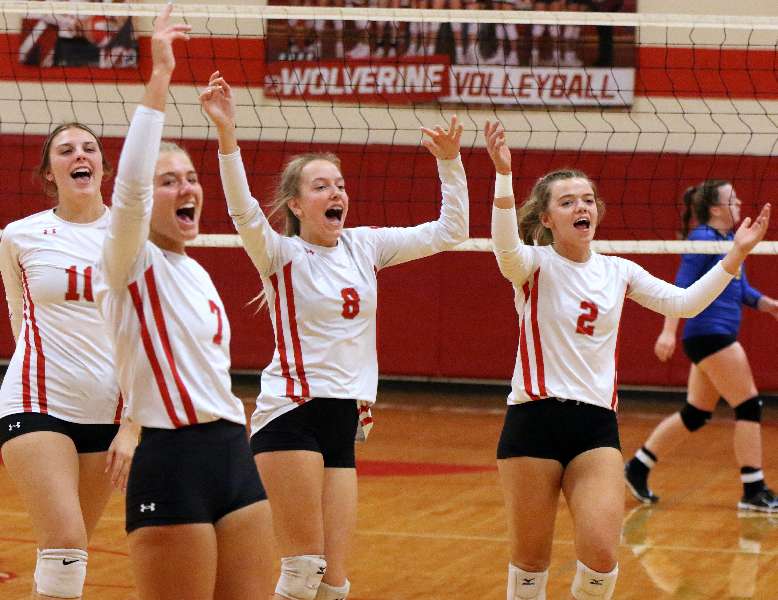 WAVERLY SWEEPS TIOGA IN BATTLE OF DIVISION LEADERS
By: Tim Birney | Waverly Athletics | October 12, 2022 | Photo courtesy Tim Birney
WAVERLY — Waverly let a 2-1 lead slip away in a five-set loss to Tioga three weeks ago, but Wednesday night, the Lady Wolverines seemed determined not to let it happen again, and posted a sweep of their league rival in IAC South volleyball action.

The Large School-leading Lady Wolverines won by scores of 25-21, 25-15, and 25-21 in a battle of division leaders.

Waverly improves to 12-1 on the season, while Small School-leading Tioga falls to 11-2.

Waverly coach Charity Meyers knows playing against Tioga has been a struggle for her program.

"I think playing Tioga always gets in our head a little bit," she said. "Tonight, the girls finished it.

"The first time we played them, we barely lost the first, then won the next two, and (Tioga) got the fourth and fifth set,"noted Meyers.

"I didn't want to even get there tonight. I wanted this done in three, and the girls were able to close it out," she added.

The Lady Wolverines used a strong night at the service line to keep Tioga on its heels.

"We have the strongest serving team I've ever coached," said Meyers.

"When we played Tioga the first time, I thought the reason we lost was because we missed too many serves. We have good servers, but sometimes jump-serve isn't the best idea.

"We've worked on it a little bit more since then, and they did a great job tonight," she said.

Tioga coach Des Ford was a bit frustrated by her team's performance.

"We couldn't play the game tonight," she said. "We couldn't free ball, we couldn't serve-receive … passing is one the main elements of the game, and we couldn't do that.

"Waverly did a nice job serving, and we didn't pass well.

"I knew coming in here was going to be tough. I knew Waverly was coming to beat us … they played to win," added Ford. "If you can't pass, can't serve-receive, and can't communicate, you can't expect to win the game."

The strong serving allowed Waverly to be on the attack the majority of the match.

"The girls have been working hard on their hitting, and we have some really powerful hitters," said Meyers. "Tonight, we hit the ball very well."

Junior Ashlen Croft's seven-point service run helped Waverly to a fast start in the first set, and the Lady Wolverines built a 19-8 lead.

After a side-out, Joslyn Maciak served four straight points to close the gap to 18-14, before Waverly junior Erica Ryck ended the run with a kill to make it 19-14.

The Lady Tigers pulled to within two, at 20-18, and eventually closed the gap to one point, at 22-21.

After a Tioga side-out on a serve into the net, Waverly senior Michaela Lauper served up a pair of points, with sophomore Lillie Kirk ending both rallies with hard-hit kills to give the Lady Wolverines a 25-21 win.

Waverly freshman Brilynn Belles served 13 straight points, including five aces, early in the second set to give the Lady Wolverines a 15-1 lead.

Tioga never got closer than 10, with Waverly winning a 25-15 decision.

In the third set, senior Kyra Bailey served up six straight points to give Tioga an early 7-0 lead.

Waverly closed the gap to 9-6 on a kill by Kirk, then Croft served three consecutive aces to tie the game at 9-9.

After a side-out, junior Lily Mesler served three straight points, with senior Reese Howey's kill punctuating the final point, putting the Lady Tigers ahead, 13-9.

With Waverly trailing 15-13, Kirk served four straight points, with the first three ending on a kill by Ryck, and two kills by junior Peyton Shaw, to give the Lady Wolverines a 17-15 lead.

Waverly stretched its lead to 23-17, before finishing with a 25-21 win.

Belles led Waverly with 21 service points, including seven aces, two kills, and 17 digs, while Croft had eight points, including five aces, and three kills, Kirk had seven points, 10 kills, one block, and seven digs, and Lauper had five points, 26 setter assists, and 13 digs.

Ryck had four points, nine kills, and eight digs in the win, while sophomore Maddy Olmsted added two points and four digs, and Shaw recorded six kills, one block, and three digs.

Bailey led Tioga with 10 points, five assists, five digs, and two kills, while junior Megan Vance had six points, Mesler added five points and three assists, Howey had four points, two kills, five blocks, and eight digs.
Maciak chipped in with three points and 10 digs, and senior Hailey Browne had two points, two kills, and seven digs.

Waverly returns to action Friday at Edison, while Tioga hosts SVEC.
JV: Tioga swept the junior varsity match by scores of 25-11 and 25-7, and also won the exhibition set, 25-16.
Ashlyn Dragoo led Waverly with three points and one block, while Meghan Apgar had three points, Mikella Myers and Sadie DeOlden-Murphy had two points, and Zaelea Lane added six digs.
RaeAnn Feekp led Tioga with 15 points, including six aces, five assists, and two digs, and Lily Mezzatesta had seven points (six aces), Aly Chamberlain added six points, four kills, and four assists, Kali Bailey had five points (two aces), and two kills, and Audi Zorn chipped in with five points, and two digs.
About the Author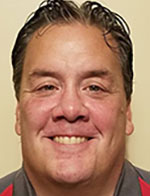 Tim Birney is the founder / owner of River Road Media Group. He was born and raised in the Valley, graduating from Waverly High School in 1984.
Birney earned an Associate's Degree in Journalism from SUNY Morrisville in 1986 and a Bachelor's Degree in Journalism / Public Relations from Utica College of Syracuse University in 1988. He began his newspaper career at The Daily Review in Towanda in 1989, before moving on to The Evening Times in 1995. He spent more than 10 years at the Times, the last four as Managing Editor.
River Road Media Group includes five sites in "The Sports Reports" family that cover 24 school districts in five counties: Valley Sports Report (launched Aug. 10, 2009), Tioga County (NY) Sports Report (Aug. 13, 2018), and Northern Tier Sports Report (Aug. 31, 2020); Northern Tier West Sports Report (March 15, 2021) Southern Tier Sports Report (Aug. 16, 2021).