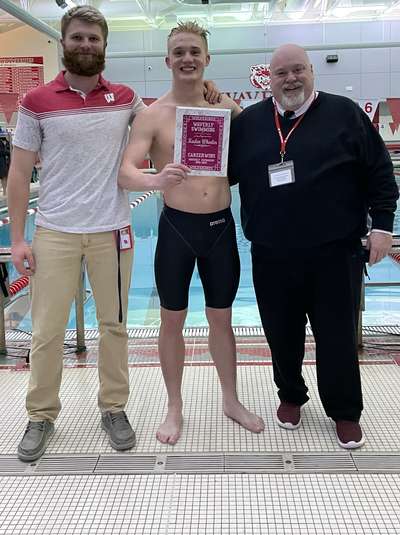 WAVERLY TOPS SOUTHERN CAYUGA IN SEASON FINALE; CELEBRATES WHEELER'S 200 CAREER WINS
By: Tim Birney | Waverly Athletics | February 8, 2022 | Photo courtesy Photo Provided
WAVERLY — Senior Kaden Wheeler and juniors Oscar Williams and Jerrell Sackett registered four wins apiece to lead Waverly to a season-ending, 108-56, win over Southern Cayuga here Tuesday afternoon in IAC boys swimming action.

The meet was punctuated by a celebration for Wheeler recording 200 career wins. The Wolverine senior actually reached 200 wins last season (and now has 230 wins), but Waverly's coaches chose to wait until this year's Senior Night to celebrate so fans could be present.

Meanwhile, Oscar Williams hit the individual state cut time in the 50-yard freestyle and will compete at States.

Oscar Williams won the 50-yard freestyle in a time of 22.19 seconds, and junior Clark was second in 22.36. He also won the 100-yard backstroke in a time of 59.11 seconds.

Wheeler won the 100-yard butterfly in 54.04 seconds, and freshman Nate Peters was third in 1:26.1. Wheeler won the 100-yard breaststroke in a time of 1:06.35, and Clark was second in 1:08.42.

Sackett won the 200-yard freestyle in a time of 1:56.57, and sophomore Liam Wright was second in 2:00.42. Sackett also won the 100-yard freestyle in 50.9 seconds, and freshman Jason Marrone was third in 1:03.85.

Oscar Williams, Wheeler, Sackett, and Wright teamed to win the 400-yard freestyle relay in a time of 3:35.91.

Wheeler, Clark, Marrone and junior Sheldon Huddleston teamed to win the 200-yard medley relay in a time of 1:53.51.

Oscar Williams, Sackett, Clark, and senior Caleb Ovedovitz teamed to win the 200-yard freestyle relay in 1:38.95.

Wright won the 500-yard freestyle in a time of 5:38.58, and junior Simon Stevens was third in 8:16.7.

Eighth-grader Finn Williams won the 200-yard IM in a time of 2:37.85, and Marrone was second in 2:52.17.

Waverly hosts the IAC Championships Saturday.
About the Author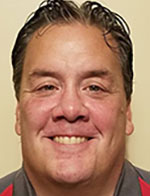 Tim Birney is the founder / owner of River Road Media Group. He was born and raised in the Valley, graduating from Waverly High School in 1984.
Birney earned an Associate's Degree in Journalism from SUNY Morrisville in 1986 and a Bachelor's Degree in Journalism / Public Relations from Utica College of Syracuse University in 1988. He began his newspaper career at The Daily Review in Towanda in 1989, before moving on to The Evening Times in 1995. He spent more than 10 years at the Times, the last four as Managing Editor.
River Road Media Group includes five sites in "The Sports Reports" family that cover 24 school districts in five counties: Valley Sports Report (launched Aug. 10, 2009), Tioga County (NY) Sports Report (Aug. 13, 2018), and Northern Tier Sports Report (Aug. 31, 2020); Northern Tier West Sports Report (March 15, 2021) Southern Tier Sports Report (Aug. 16, 2021).