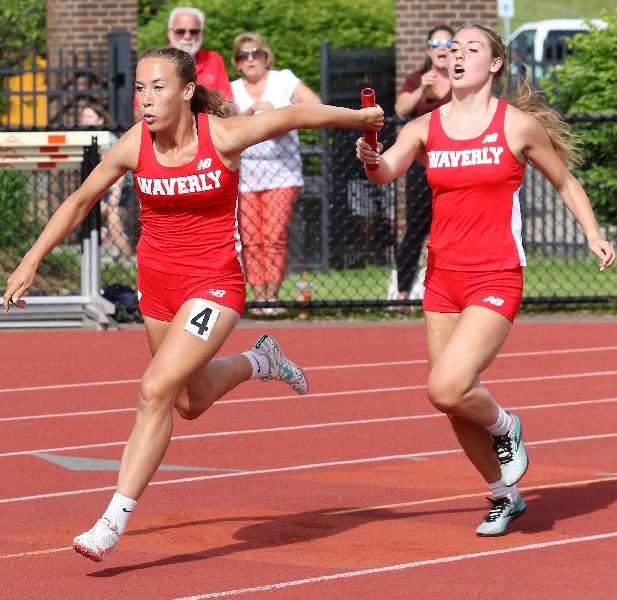 WAVERLY'S 400 RELAY QUALIFIES FOR STATE MEET
By: Tim Birney | Waverly Athletics | June 2, 2022 | Photo courtesy Tim Taylor
ENDICOTT — Waverly's top-seeded 400-meter relay posted the fastest time of the day here Thursday at the Section IV State Qualifier, and advanced to the New York State Track & Field Championships next weekend at Cicero-North Syracuse High School.

"It was a really special evening for Waverly track and field," said Waverly coach Dave Hogan. "Our athletes came into today knowing they had more work to do and more to prove.

"We're so proud of them for the work they've put in this season and the commitment they've made to the sport and this team," he added. "They responded to the competition the Section threw at them, and rightfully earned this trip to the state meet."

The 400-meter relay team of juniors Abbey Knolles, Natalie Garrity, Kennedy Westbrook and senior Olivia Nittinger in 51.54 seconds. They ran the fastest time in the prelims at 50.99 seconds.

"The girls 4-by-1 relay ran an extremely smooth trial race today and PR'ed," said Hogan. "Their trial was admittedly not their best race this season, with some sloppy handoffs, but the girls are extremely resilient and experienced, and still pulled out a close second to capture first in Division 2."

Knolles, NIttinger, KennedyWestbrook, and freshman Addison Westbrook finished third in the 1,600-meter relay in a time of 4:20.04.

Freshman Harper Minaker placed third in the 2,000-meter steeplechase in a time of 8:18.93 — more than 30 seconds off her school-record time last week at the Class C Championships.

Seventh-grader Lauren Gorsline finished sixth in the 1,500-meter run in a time of 5:19.99.

Sophomore Paige Robinson was sixth in the pole vault at 8-feet, 1-inch.

Notre Dame won the Division 2 team title with 51 points, well ahead of runner-up Chenango Forks, which had 30 points, while Waverly, Tioga, Sidney and Trumansburg tied for ninth with 16 points.
About the Author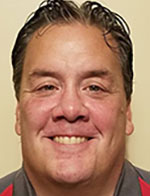 Tim Birney is the founder / owner of River Road Media Group. He was born and raised in the Valley, graduating from Waverly High School in 1984.
Birney earned an Associate's Degree in Journalism from SUNY Morrisville in 1986 and a Bachelor's Degree in Journalism / Public Relations from Utica College of Syracuse University in 1988. He began his newspaper career at The Daily Review in Towanda in 1989, before moving on to The Evening Times in 1995. He spent more than 10 years at the Times, the last four as Managing Editor.
River Road Media Group includes five sites in "The Sports Reports" family that cover 24 school districts in five counties: Valley Sports Report (launched Aug. 10, 2009), Tioga County (NY) Sports Report (Aug. 13, 2018), and Northern Tier Sports Report (Aug. 31, 2020); Northern Tier West Sports Report (March 15, 2021) Southern Tier Sports Report (Aug. 16, 2021).