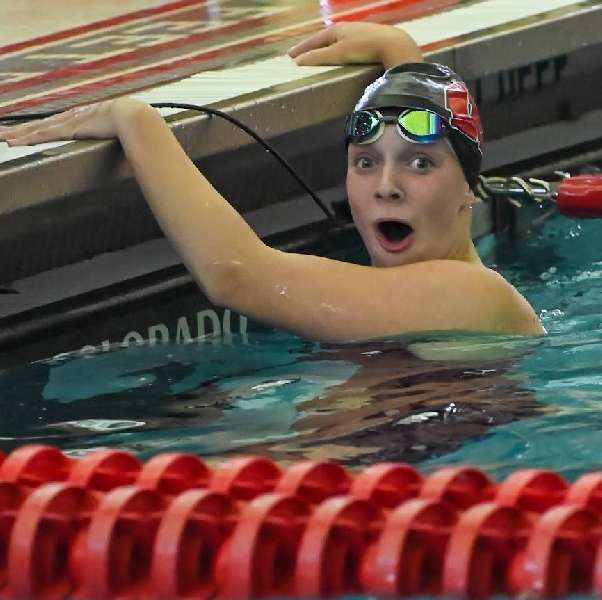 WAVERLY'S KITTLE BREAKS TWO SCHOOL RECORDS, QUALIFIES FOR STATES; DESISTI ALSO SHINES AT WAVERLY INVITE
By: Tim Birney | Waverly Athletics | September 10, 2022 | Photo courtesy Matt Patton
WAVERLY — Waverly freshman Mira Kittle had quite a day here Saturday at the Waverly Swimming & Diving Invitational, setting a pair of school records, and becoming the youngest Wolverine — girl or boy — to qualify for the New York State championship meet.

Kittle won the 100-yard backstroke in a school-record and state-qualifying time of 1:00.28. (The state standard is 1:00.42.) She lowered her own school record of 1:00.64, which she set on Sept. 1, and is the first freshman in school history to qualify for the state meet.

Kittle also won the 50-yard freestyle in a school-record time of 24.94 seconds, topping the previous record of 25.04 set in 1999 by Morgan Burrows.

Kittle, and senior Sophia DeSisti each made the podium (top six) in four events to help Waverly to a fifth-place finish in the eight-team field.


Powerhouse Corning won the team title with 436.5 points, while Chenango Valley was second with 366 points, and Maine-Endwell was third with 324.5 points. Norwich finished fourth with 199 points, edging out Waverly by two points, and Elmira was sixth with 150 points.
Corning standout Angie McKane established a new meet record in the 200 IM (2:07.16), a meet and pool record in the 100-yard butterfly (54.74 seconds), as well as a state and All-American standard time.
DeSisti finished second in the 100-yard freestyle in a time of 57.48 seconds — just .01 seconds off the pace of Corning's Carolyn Heckle. DeSisti's time is the seventh fastest in the event in school history. Waverly 7th-grader Lauryn Welles was 15th in a personal-best time of 1:09.79.
DeSisti also placed third in the 200-yard freestyle in a personal-best time of 2:10.16, while freshman Lizzy Robinson was 11th in a personal-best time of 2:32.64, and freshman Emma Vanderhoof was 15th in 2:35.99.
Kittle, and fellow freshmen Vanderhoff, Robinson, and Sophia Lee finished fourth in the 200-yard medley relay in a time of 2:10.93.
DeSisti teamed with Lee, Vanderhoof, and Robinson to finish fourth in the 200-yard freestyle relay in a season-best time of 1:55.6. DeSisti posted a personal-best leg of 26.97 seconds.
Kittle and DeSisti teamed with seniors Josie VanDyke, and Abbey Knolles to finish sixth in the 400-yard freestyle relay in a time of 4:39.08. VanDyke posted a PR in the lead-off leg at 1:15.11.
Robinson finished ninth in the 500-yard freestyle in a personal-best time of 6:46.08, and Vanderhoof was 14th in 7:00.68
VanDyke finished ninth in the 1-meter diving competition with an 248.55 points, and Knolles was 11th with 233.95 points.

Lee finished 10th in the 200-yard IM in a time of 3:02.75, while freshman Vada Harmon was 13th in the 100-yard butterfly in a personal-best time of 1:36.97, Welles was 13th in the 50 free in a personal-best time of 29.21 seconds, and VanDyke finished 16th in the 100-yard backstroke a time of 1:23.6.
Waverly returns to action Thursday when it hosts Notre Dame.
About the Author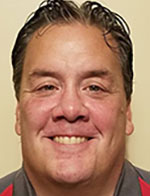 Tim Birney is the founder / owner of River Road Media Group. He was born and raised in the Valley, graduating from Waverly High School in 1984.
Birney earned an Associate's Degree in Journalism from SUNY Morrisville in 1986 and a Bachelor's Degree in Journalism / Public Relations from Utica College of Syracuse University in 1988. He began his newspaper career at The Daily Review in Towanda in 1989, before moving on to The Evening Times in 1995. He spent more than 10 years at the Times, the last four as Managing Editor.
River Road Media Group includes Valley Sports Report (launched Aug. 10, 2009), Tioga County (NY) Sports Report (Aug. 13, 2018), and Northern Tier Sports Report (Aug. 31, 2020). Southern Tier Sports Report is set to launch in 2021.