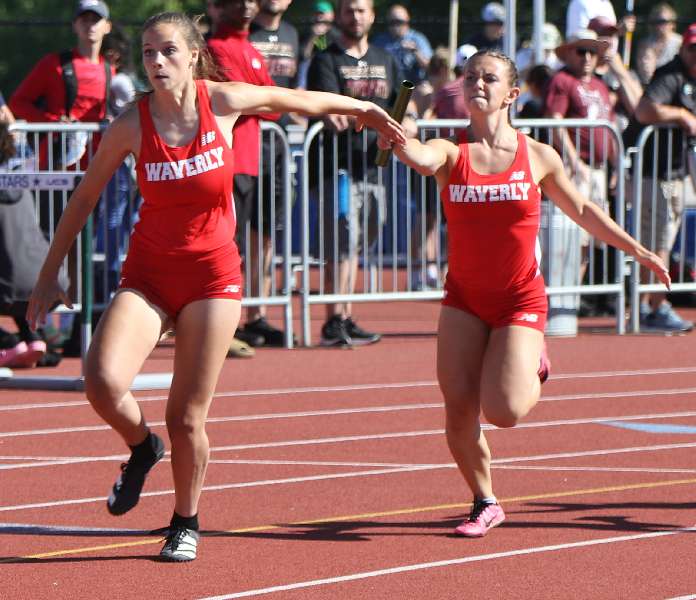 WAVERLY'S RELAYS BATTLE ADVERSITY AT STATES, DO NOT PLACE
By: Tim Birney | Waverly Athletics | June 10, 2022 | Photo courtesy Tim Birney
CICERO — Waverly battled adversity, and only brought home one medal in five events, but coach Dave Hogan was pleased with his team's performance here Friday at the New York State Division 2 Track & Field Championships.

"All in all, it was a good day," said Hogan.

"I keep going back to the fact that we brought 10 people here (to States), and I think that's a powerful statement," he noted. "And, the majority of those 10 are juniors, and Micah (Chandler) is a sophomore.

"We're remarkably happy with how they performed, and some of them had to step into different roles on the fly," continued Hogan. "It shows why we bring alternates, and why we prepare the way we do, because things happen.

"it showed these kids are remarkably adaptable in the moment at the biggest meet they're going to be in all year," he added. "Kudos to these kids. I can't say it enough, I'm so proud to be their coach, and our entire staff would echo the same thing."

Sophomore Micah Chandler earned Waverly's only medal, placing fifth in the 400-meter hurdles, but clipped a pair of hurdles, and was too banged up to run in the 400- and 1,600-meter relays, and junior Kayleb Bechy ran a career-best time in a 20th-place finish in the 100-meter dash.

Waverly's three relays all finished between ninth and 11th.

The foursome of juniors Abbey Knolles, Natalie Garrity, and Kennedy Westbrook and senior Olivia Nittinger teamed to finish ninth in the 400-meter relay in a time of 51.99 seconds. (They were the ninth seed in 50.99 seconds.)

"I've been telling the girls, and the guys, that you can't have your best every meet," said Hogan.

"As an observer of that race, all the hand-offs looked phenomenal, and all the girls did their job," added Hogan. "The time just wasn't where we wanted it to be."

Bechy, juniors Jerrell Sackett, and Treyton Moore, and senior Sam VanDyke finished 10th in the 400-meter relay in a time of 44.53 seconds. (They were the seventh seed at 43.83 seconds.)

"Treyton Moore got thrown into the third leg at the last second because of Micah's injury, and Treyton has never run that leg before," said Hogan. "What you saw was Treyton estimating on the fly, how to get that hand-off from Jerrell (Sackett), and also getting the baton to Sam (VanDyke) at the end, which may be the first time he's ever given a baton in that relay.

"We were really happy with how Treyton stepped up, and we're really proud of him.

"Despite everything, that time (44.53) was the fourth or fifth best time we've run all season," added Hogan.

VanDyke, senior Kaden Wheeler, Moore, and Sackett finished 11th in the 1,600-meter relay in a time of 3:36.93. (They were the ninth seed at 3:32.56.)

"Micah usually runs first leg and he sees the tone, with a low 50-second," said Hogan. "We re-arranged our order and Jerrell ran first. We knew he could set the tone in a positive way, and he did by running a 51-something in his split.

"The guys did their jobs, and ran a good time," he noted. "I have nothing negative to say about how they ran that race.

"Sam (VanDyke) had his hamstring wrapped up, and still ran a 53-split," added Hogan.
About the Author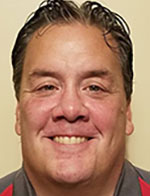 Tim Birney is the founder / owner of River Road Media Group. He was born and raised in the Valley, graduating from Waverly High School in 1984.
Birney earned an Associate's Degree in Journalism from SUNY Morrisville in 1986 and a Bachelor's Degree in Journalism / Public Relations from Utica College of Syracuse University in 1988. He began his newspaper career at The Daily Review in Towanda in 1989, before moving on to The Evening Times in 1995. He spent more than 10 years at the Times, the last four as Managing Editor.
River Road Media Group includes Valley Sports Report (launched Aug. 10, 2009), Tioga County (NY) Sports Report (Aug. 13, 2018), and Northern Tier Sports Report (Aug. 31, 2020). Southern Tier Sports Report is set to launch in 2021.