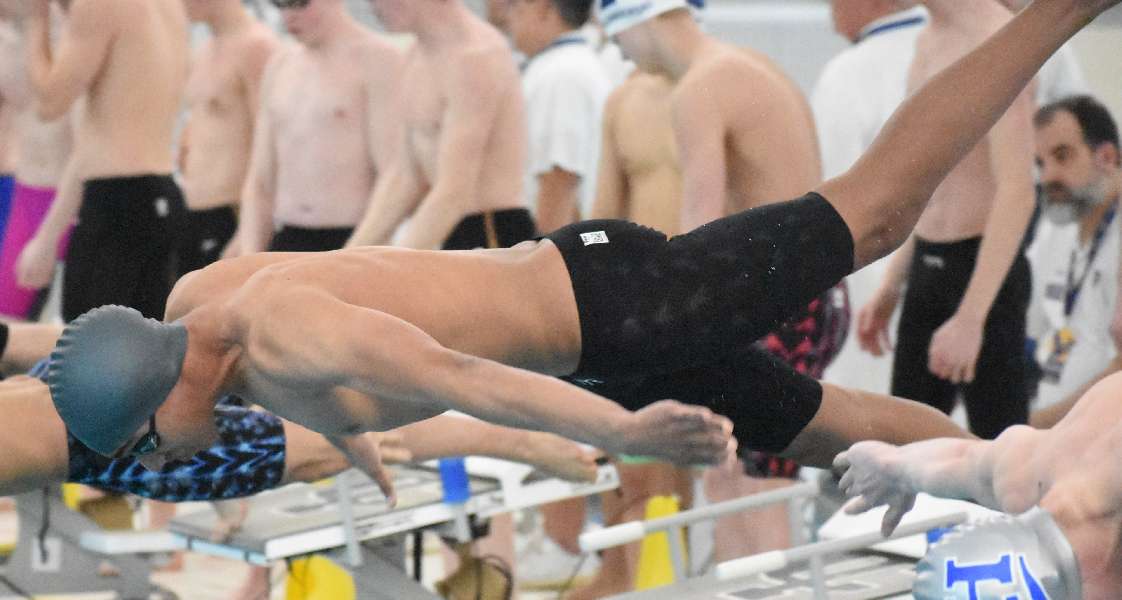 WAVERLY'S SACKETT FINISHES 3RD IN STATE IN 50 FREE, EARNS HOME THREE STATE MEDALS
By: Brian Fees | Waverly Athletics | March 4, 2022 | Photo courtesy Brian Fees
ITHACA — The performance on Saturday put Jerrell Sackett on a level few in Waverly school history have ever achieved.

Still, the Wolverines star wants more. As he celebrated his third-place finish in the 50 free at states, the junior was already looking forward to next year.

"Next year, hopefully, medals in everything I swim," he said. "First place is the goal."

As he stood on the podium, one spot away from the state champion, the Wolverines standout could already imagine being one spot higher on the podium.

"I can see myself there, a lot of people on my team there," Sackett said.

Sackett matched the highest finish in an individual event by any Waverly swimmer in school history as he took third in public school in 21.22 seconds, fourth overall counting the Catholic Schools.

Sackett added two more state medals on the day to wrap up a three-medal day. He joined Oscar Williams, Ryan Clark and Kaden Wheeler to take second in the public schools in the 200 free relay in 1:26.83 and he helped the same four take ninth in the 400 free relay in 3:14.38.

"That's really cool, coming from a very small school. It's really cool to be so high up in the state," Sackett said.

The Wolverines had been planning for Saturday, gearing up for the state final.

"We've been talking about it a lot," Sackett said. "We adjusted the training to get to this point. It's been successful."

Sackett had dominated in the prelims with a school-record time of 21.05. On Saturday, his start wasn't exactly what the junior wanted, but he was able to finish strong.

"It had its ups and downs," Sackett said of the 50 free on Saturday. "The start could have been a little better, but throughout it was good."

The nerves were pretty high for Sackett as he took to the pool for the state final, in his first trip to states.

"They definitely were up there," Sackett said of the nerves. "I had to calm down, and sit down and focus on what I had to do. Once we did it, it was good."

The nerves were a bit higher on Saturday than they had been in the prelims, as the athletes knew they had a chance to bring home a state medal.

"Because you have the possibility to win, it's much higher (nerves), more tension," Sackett said.

For the Wolverines, just getting an individual to states is special.

"Anytime you get an individual to states is awesome," Waverly coach Josh Mastrantuono said. "Mike (Atanasoff) is the last guy to place and he was the first guy to place that high in a very, very long time for us. For Jerrell to go out and take third is just awesome for him."

When Jerrell started his career, he had Atanasoff on the team, and the former Wolverines star, who now swims at RIT, still helps out at times.

"Mike comes around and helps where he can," Mastrantuono said. "It's great to have guys like that come back to the program and influence young guys like Jerrell and help them grow and achieve in the sport."

And, now Sackett, and the other Waverly swimmers, are starting to lead the next generation of Wolverines.


"They are great role models for the team," Mastrantuono said. "The young guys on the team look up to them, especially with all the success they've had and how fast they are. They are just really good role models to build the team around."
About the Author