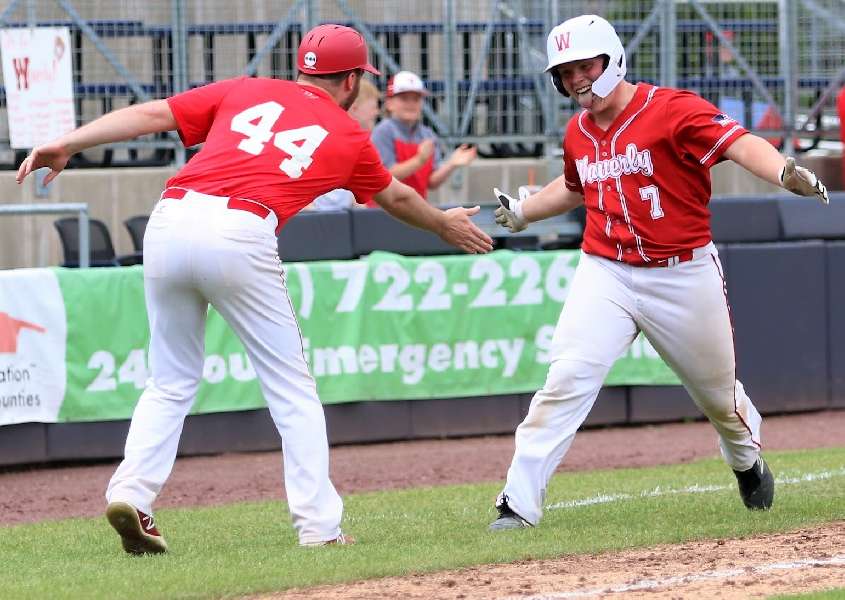 WAVERLY'S SECOND COMEBACK BID OF GAME FALLS SHORT IN 12-10 LOSS TO ONEONTA IN CLASS B TITLE TILT
By: Tim Birney | Waverly Athletics | May 27, 2022 | Photo courtesy Chela Bubniak
BINGHAMTON — Waverly overcame Oneonta's first big inning, but the Yellowjackets' second big inning proved too much as the Wolverines dropped a 12-10 decision here Friday afternoon in the championship game of the Section IV, Class B baseball playoffs at Mirabito Stadium.
"(Oneonta) jumped on us early, but we chipped away … we chipped away in the next inning, and then Ty (Beeman) hit a big three-run bomb to put us on top, but (Oneonta) pushed us, they pushed our defense the entire game," said longtime Waverly coach Kyle McDuffee.
"In the sixth inning, they put the six-spot up, and they pushed our defense pretty hard," he noted. "They laid down a couple bunts, and we didn't make the big defensive play when we needed to.
"The (sixth) inning wally hurt us. The two bunts … we just didn't play like we should have on those. We've always been good on bunt coverage, but it was just not that good tonight," continued McDuffee.
"It's the small things … if you give a team an extra out in Sectionals, it will come back to bite you. It's hard to win games when you give outs away. If we're playing with 21 outs and everyone else is playing with 23 or 24, they're bound to score more runs.
"But, we never stopped fighting," added McDuffee. "With only three out to play with, we came back and fought like heck, and put four on the board."
Oneonta scored one run in the home half of the first, then added four more — on a pair of two-out hits — to take a 5-0 lead after two innings.
With one out in the top of the third inning, senior Brennan Traub reached on an error, then scored on a line-drive RBI double by senior Thomas Hand.
After junior Bryce Bailey reached on a dropped third strike that allowed Hand to take third, Beeman hit an RBI single up the middle to close the gap to 5-2.
Later in the inning, sophomore Joey Tomasso plated Bailey with a sacrifice fly to trim the deficit to 5-3.
In the top of the fifth, Hand walked and Bailey was hit by a pitch to put runners on first and second.
Moments later, Beeman drove a 3-2 pitch over the 330-foot sign in left field to give the Wolverines a 6-5 lead. It was Beeman's second round-tripper in as many games.
Oneonta answered with a run in the home half of the fifth to tie the game at 6-6, then took advantage of an error and a hit batsman in a six-run rally in the sixth inning to take a 12-6 lead.
Sophomore Jay Pipher knocked in a run with an RBI single in the top of the seventh, and senior Caden Hollywood plated a run with a fielder's choice groundout to close the gap to 12-8.
With two outs, junior Nate DeLill ripped a two-run double to make it 12-10, but a fly ball to center field ended Waverly's hopes.
"The losses at the end of the year just keep getting harder and harder," said McDuffee, who has been at the Wolverine helm for nearly two decades.
"Everyone loses except for one team," he added. "I would have liked to have gone a little further, these kids deserve it."
Beeman homered and singled, scored two runs, and had four RBI to pace Waverly's five-hit attack, while Hand doubled, scored two runs, and drove in one run, and DeLill doubled and knocked in two runs.
Pipher singled, scored one run, and drove in one run for the Wolverines, while Bailey scored three runs, Tomasso and Hollywood each had one RBI, and Traub crossed the plate once.
The Wolverines finish the season at 12-10, with nine of those 10 losses coming to playoff teams.
"We put that schedule together to prepare us for Sectionals," said McDuffee. "We saw some real good pitching.
"The schools we saw … Horseheads won a Section IV title, Montoursville and South Williamsport are in District 4 finals, Notre Dame was in a (Section IV) final, Williamsport did well, and Sayre and Athens are always tough," noted McDuffee. "We were in every one of those games, and had a chance to win most of them.
"The schedule was there and prepared us for Sectionals, we just didn't get it done today," he added.
McDuffee also took note of his personal history against Oneonta.
"They've kind of had my number. I think I'm 1-5 against them," he said. "(Coach Joe Hughes) has been around longer than I have and has a great program. They're a very good team, and a well-coached team.
Hughes is closing on 550 career wins in three decades of coaching.
McDuffee said the Wolverines are losing a "good bunch of seniors."
"They have good attitudes," he said. "And, as you could see today, they had a lot of tight in them.
"Guys like Caden Hollywood, who came up early (as a freshman) … he was a fighter on the mound, he didn't want to give up the ball ever," noted McDuffee. "Brennan Traub plays with his heart on his sleeve — he's a baseball player. He loved hitting in the 9-spot.
"Brady (Blauvelt) is the same way … he had a great attitude and was positive all the time.
"Thomas Hand covered a lot of ground in the outfield for us," he continued. "Thomas Hand just wants to win at everything he does, and he works really hard to do that. You don't get too many kids like him.
"It's just a good bunch of seniors, and they will be missed," added McDuffee. "This group racked up quite a few wins for the program in their time."
With Beeman, Bailey, Tomasso, and Pipher leading the way, the cupboard is far from bare for McDuffee and the Wolverines in 2023.
"I think we'll contend again next year," said McDuffee. "We have quite a bit back, and our JV team made it to the (IAC) finals.
"Some of the JV kids came up for the postseason … it may have been pinch-running, but they all got an opportunity to taste it.," he noted. "And to be in that dugout today was quite an experience for them.
"We just have to keep re-loading," added McDuffee. "We have to fill in the gaps, and see where that takes us."
About the Author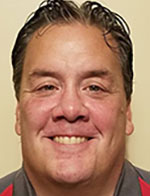 Tim Birney is the founder / owner of River Road Media Group. He was born and raised in the Valley, graduating from Waverly High School in 1984.
Birney earned an Associate's Degree in Journalism from SUNY Morrisville in 1986 and a Bachelor's Degree in Journalism / Public Relations from Utica College of Syracuse University in 1988. He began his newspaper career at The Daily Review in Towanda in 1989, before moving on to The Evening Times in 1995. He spent more than 10 years at the Times, the last four as Managing Editor.
River Road Media Group includes Valley Sports Report (launched Aug. 10, 2009), Tioga County (NY) Sports Report (Aug. 13, 2018), and Northern Tier Sports Report (Aug. 31, 2020). Southern Tier Sports Report is set to launch in 2021.