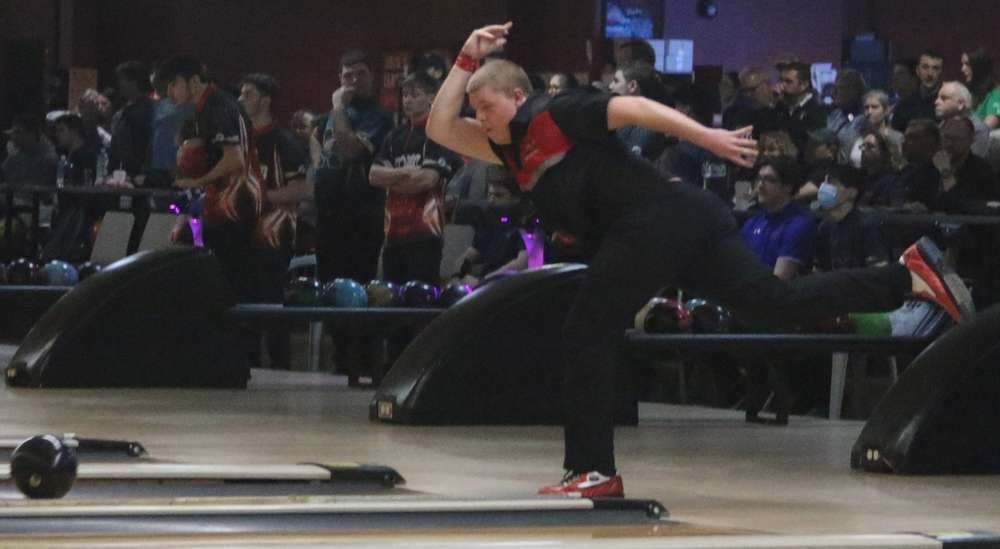 WAVERLY'S VANDERPOOL PLACES 30TH IN STATE BOWLING TOURNAMENT DEBUT
By: Tim Taylor | Waverly Athletics | March 12, 2022 | Photo courtesy Tim Taylor
SYRACUSE - Waverly's Zach Vanderpool finished 30th in a field of 66 competitors at the New York State Public High School Athletic Association Bowling Championships at Strike N' Spare Lanes here Saturday.

He competed in the Division II Composite Boys tournament as part of the Section IV All-Star Team.

The junior enjoyed his state debut.

"It's a really fun experience," he said, "and seeing everyone else, and having a good time, just bowling with other people from other schools, because you're bowling with the section all-stars."

Still, Vanderpool had mixed feelings about his performance.

"I really didn't like how I bowled," he said. "I missed a few spares, but other than that, I felt like I did pretty good."

Vanderpool rolled a 1,223 series, finishing the tournament with a 203.83 average for six games.

He started his first two games with turkeys (three strikes in a row) and those helped lead to his two highest games — 224 and a 218.

Vanderpool said relaxing and taking his time helped him prepare for the next strike.

His third game was a 196.

The teams were re-seeded and most of the teams would bowl their final three games on different lanes. Vanderpool shot 190, 215 and 180 to wrap up his day.

Vanderpool is hoping to make a return to states next year and knows what he needs to work on to finish higher.

"Just spare shooting really, and hitting my mark," he said.

Another Tioga County bowler, Owego's Cole Dalton, placed 34th with a 199.67 average.

Maine-Endwell's Braedyn Traffas led the Section IV team, placing 17th with a 1,276, averaging 212.67.

Jacob Willard from Section VI won the individual title with a 1,469. He averaged 244.83 per game, which included a 300 in his second game of the day.

Section IV placed eighth among 11 teams with a 5,976 total pinfall. The team scored 2,886 in the first round and 3,090 in the second.

Section V was the team champion, scoring 6,710.

This was the 55th annual state tournament and first since 2019. It was canceled in 2020 and 2021 due to the COVID-19 pandemic.