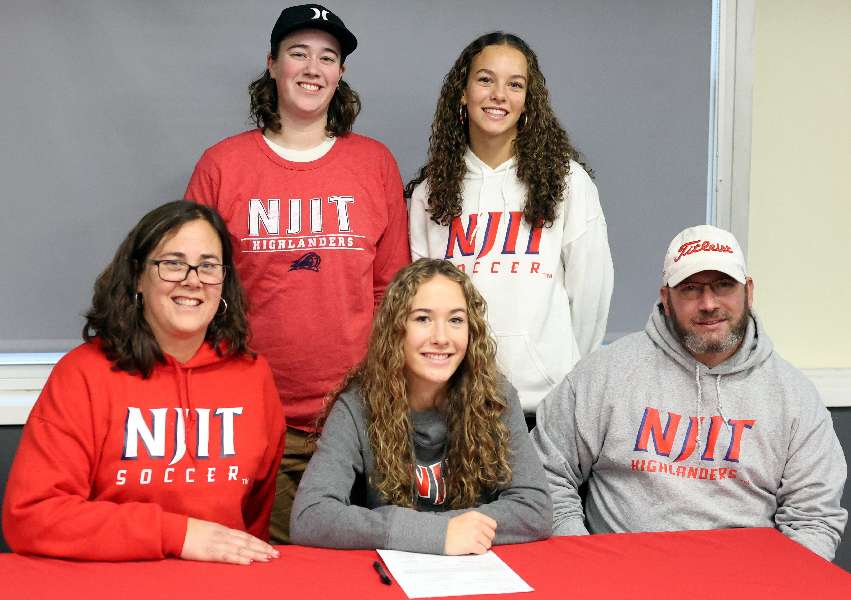 WAVERLY'S WESTBROOK SIGNS TO PLAY AT DIV. I NJIT
By: Tim Birney | Waverly Athletics | December 20, 2022 | Photo courtesy Tim Birney
WAVERLY — New Jersey Institute of Technology not only sold its Division I soccer program to Waverly senior Kennedy Westbrook, but to her family on an overnight visit.

On Tuesday, Westbrook signed a National Letter-of-Intent to play at NJIT in a brief ceremony here in the high school Learning Commons.

"We went for an overnight visit, and the (NJIT) coach really connected with me and my family," said Westbrook.

"It wasn't just about making sure I was going to fit in," she noted. "It was making sure my family would fit in, too.

"I also got to spend the night with the girls on the team, and I felt an instant connection with them," Westbrook added.

Waverly girls soccer coach Tara Hogan, who coached Westbrook the last four years, has little doubt she will succeed at the next level.

"(Kennedy) doesn't just fall back and rely on her natural talent, of which she has an abundance," said Hogan. "She wants to do better, she wants to be the best. She is a competitor through and through.

"She is a workhorse," noted Hogan. "You tell her to do something, and she's going to find a way to do it.

"Her work ethic is going to make her successful, no question about it," added Hogan.

Westbrook becomes the sixth girls from the Valley to go the Division I soccer route since 2019. She knows all the other girls, and has played with most of them in the past.

"Knowing those girls, and their success helps me a lot," she said. "Having played along side some of those girls … Hannah Walker and I played together for 10 years, and to see what she has accomplished gives me some confidence.

"Plus, she's a resource," noted Westbrook. "I can ask her questions because she's gone through it already.

"It made me a lot more comfortable going through the process," she added.

Westbrook knows she has plenty of work to do before she gets to NJIT.

"I definitely am taking up more training with my coaches from BC United to help prepare myself. I'm going to do a lot of work in the summer," she said. "I'm hoping to work with (Athens grads) Hannah Walker and Rachel Hutchison over the summer to get in shape to play Division I soccer.

"I definitely need to work on making quicker decisions," added Westbrook. "I take a lot of time on the ball, and at the college level the pace of the game is much faster, so making quicker decisions and trusting my guy is something I'll work on."

Hogan, a former Division I player in her own right, said Westbrook will have a few things she'll need to adjust to.

"She plays club, so she's had good exposure, but this is going to be a whole new level of exposure," said Hogan. "She is going to see the best of the best at the collegiate level.

"Time management is one thing a lot of freshmen struggle with," noted Hogan. "But programs like NJIT mandate study hours, and keep their athletes on really strict schedules, which I think will help her.

"I only see her getting better as she goes up against better competition on a daily basis," added Hogan. "She's only going to get stronger as a player."

Playing premier travel soccer has played a major role in Westbrook's development as a player, and it also provided the impetus for her Division I landing spot.

"Playing (premier) soccer helped me a lot," she said. "My BC United coach is the one who reached out to NJIT. They came and saw me play in three games, and that really sparked my recruitment."

Westbrook is a three-sport standout at Waverly, and while soccer is obviously her top sport, it wasn't always the case.

"It was all about soccer for a really long time, but I took a break for almost two years, and played AAU (basketball)," she said. "I just missed soccer too much, so I went right back to it."

Westbrook will major in Sports Management.
About the Author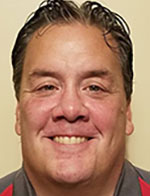 Tim Birney is the founder / owner of River Road Media Group. He was born and raised in the Valley, graduating from Waverly High School in 1984.
Birney earned an Associate's Degree in Journalism from SUNY Morrisville in 1986 and a Bachelor's Degree in Journalism / Public Relations from Utica College of Syracuse University in 1988. He began his newspaper career at The Daily Review in Towanda in 1989, before moving on to The Evening Times in 1995. He spent more than 10 years at the Times, the last four as Managing Editor.
River Road Media Group includes five sites in "The Sports Reports" family that cover 24 school districts in five counties: Valley Sports Report (launched Aug. 10, 2009), Tioga County (NY) Sports Report (Aug. 13, 2018), and Northern Tier Sports Report (Aug. 31, 2020); Northern Tier West Sports Report (March 15, 2021) Southern Tier Sports Report (Aug. 16, 2021).