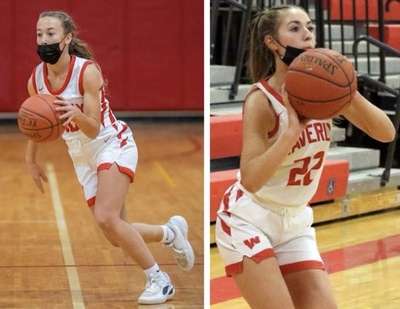 WESTBROOK NAMED FIRST-TEAM DIVISIONAL ALL-STAR; NITTINGER VOTED TO SECOND TEAM
By: Tim Birney | Waverly Athletics | February 15, 2022 | Photo courtesy Tim Birney
WAVERLY — Waverly junior Kennedy Westbrook was named a first-team divisional all-star, and senior Olivia NIttinger to the second team in recent voting by the IAC South Large School Division girls basketball coaches.

Sophomore Peyton Shaw and freshman Addison Westbrook both received honorable mention recognition.

FIRST TEAM
Kennedy Westbrook, junior, Waverly: An explosive all-around player, Kennedy Westbrook led the Lady Wolverines in scoring at 15.1 points, 4 assists, and 4.2 deflections per game. She was second on the team at 5.6 rebounds, and 4.4 steals per game.

She led the team, shooting 69.6 percent (71-102) from the free-throw line, and also knocked down 33 3-pointers.

Newark Valley junior Hayley Beebe was named the divisional MVP. Also named to the first team: Newark Valley's Hannah Ferguson, Cha Gardner, and Taylor Benjamin. and Edison's Payton Littlefield.

SECOND TEAM
Olivia Nittinger, senior, Waverly: A dead-eye shooter, Nittinger, who missed her junior season with a foot injury, improved her overall game for her senior season.

Nittinger averaged 14 points, 4.2 rebounds, 3.2 steals, 2.5 assists, and 2.3 deflections per game. She knocked down 44 3-pointers on the season, and shot 60 percent (30 of 50) from the field.

Also named to the second team: Newark Valley senior Gracie Gardner, Watkins Glen junior Jenna Solomon, Notre Dame junior Shannon Maloney, and Edison senior Lexi Moore.

Honorable Mention
Joining Waverly's Shaw and Addison Westbrook as honorable mentions are Edison's Maren Lutz and Gianna McGee, Newark Valley's Jasmine Graham, and Watkins Glen's Rachel Vickio.


(Stats do not include Waverly's final regular-season game at Edison.)
About the Author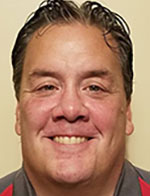 Tim Birney is the founder / owner of River Road Media Group. He was born and raised in the Valley, graduating from Waverly High School in 1984.
Birney earned an Associate's Degree in Journalism from SUNY Morrisville in 1986 and a Bachelor's Degree in Journalism / Public Relations from Utica College of Syracuse University in 1988. He began his newspaper career at The Daily Review in Towanda in 1989, before moving on to The Evening Times in 1995. He spent more than 10 years at the Times, the last four as Managing Editor.
River Road Media Group includes five sites in "The Sports Reports" family that cover 24 school districts in five counties: Valley Sports Report (launched Aug. 10, 2009), Tioga County (NY) Sports Report (Aug. 13, 2018), and Northern Tier Sports Report (Aug. 31, 2020); Northern Tier West Sports Report (March 15, 2021) Southern Tier Sports Report (Aug. 16, 2021).