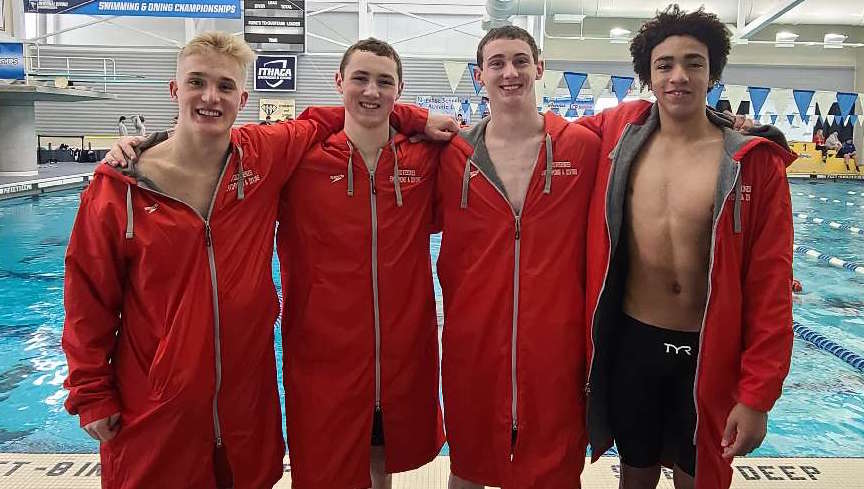 WOLVERINES BRING HOME STATE SILVER MEDAL IN 200 FREE RELAY, MEDAL IN 2 RELAYS
By: Brian Fees | Waverly Athletics | March 5, 2022 | Photo courtesy Brian Fees
ITHACA — Waverly thought they had relays capable of big things. But, what they accomplished on Saturday eclipsed even their wildest dreams.

The team of Kaden Wheeler, Jerrell Sackett, Ryan Clark and Oscar Williams brought home a second-place finish among public school teams in the 200 free relay in 1:26.83, dropping nearly a half second from their preliminary times.

It's the highest finish at state swimming in Waverly history.

The same four also brought home a ninth-place medal in the 400 free relay in 3:14.38 as the group earned a pair of state medals.

"I can't even believe we are on the podium," Waverly senior Kaden Wheeler said. "I was just telling Jerrell when we were cooling down, who would have thought at the beginning of the season we'd be on the podium at states? I would have thought you were crazy."

Waverly coach Josh Mastrantuono grew up in the program. His dad was the long-time coach, and he was a standout swimmer for the Wolverines. He's knows the history of the program and what happened with the 200 free relay is something he never thought he'd see.

"I was on the team when Jeff (Mastrantuono) and his relay set the IAC meet record in the 200 free relay and they went 1:29, and we thought that was unbelievable," Josh Mastrantuono said. "We just broke that by three seconds. It's just great for these guys. It's great for the team. This is what it's all about."

The four know how big this moment is.

"I have been looking at all the books every day, and night for years," Clark said of the record books. "Looking at the records. It's kind of what I do. To break some of those records I have been looking at for a long time, it's so amazing."

Just a couple years ago, Mike Atanasoff took third at states, and these athletes saw their former teammate do that and marvel at the finish. Now, they have their own state medals.

"It's very special," Williams said. "With Mike a couple of years ago, he got third and it was just jaw-dropping. This is amazing.

"I have wanted to come to this meet for a long time."

It was after the Wolverine Invite that the times started to really drop.

"We knew going into the invite we were going to put up some good times, but nothing like this, we couldn't even imagine it," Wheeler said.

After that Waverly Invite, the swimmers started to understand how good they could be.

"At the Wolverine Invite when we went that fast, I thought 'I think we can go faster,'" Clark said. "I am glad we were able to do it."

A year ago, the group started working for this season.

"Last year, we started to set some goal times this year, but we didn't think they were possibly to get to this point," Williams said. "It's fantastic."

What's so impressive for the Wolverines is that three of the four are underclassmen, with Wheeler being the lone senior.

"That's amazing to accomplish anytime in your career, especially this early," Mastrantuono said. "Such an awesome thing for these guys and the program, it's a great thing to build off of and keep moving forward.

"Having anyone return from one year to the next is awesome. Especially three guys like this and some young guys coming up through. It's very promising to have good relays again next year."

The swimmers on the relay know that they have a chance to be fast again next year.

"It's definitely going to be pretty similar next year," Clark said. "Kaden is going to be gone, we are going to need to get a good replacement. Hopefully we can get someone to that level by the end of the season."

The Wolverines athletes didn't even have words for what they did on Saturday.

"It's very exciting, it's unbelievable," Wheeler said.

For all of Waverly's athletes, this is special group to be a part of.

"I wouldn't want to do it with any other group of guys," Clark said. "It's been such an amazing experience this year, it's unbelievable."

The same four swimmers also took 18th in the 200 medley relay in 1:40.17.
About the Author