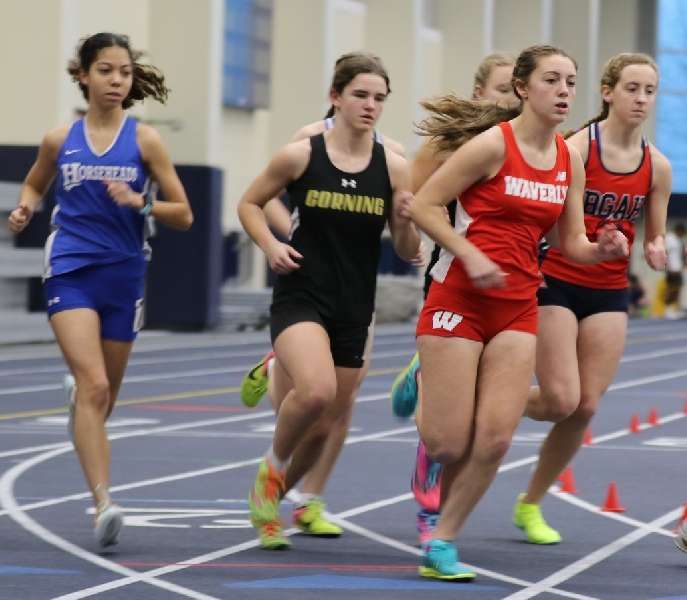 BECHY, CHANDLER PACE WAVERLY BOYS TO SECOND-PLACE FINISH AT SECTION IV CHAMPIONSHIPS; LADY WOLVERINES FINISH SIXTH
By: Tim Birney | Waverly Athletics | February 10, 2023 | Photo courtesy Sheila Sutton
Valley Sports Report
ITHACA — Senior Kayleb Bechy and junior Micah Chandler were double-winners to lead the Waverly boys to a second-place finish in Division 2 of the Section IV Indoor Track & Field Championships, while the Lady Wolverines finished sixth.

WAVERLY BOYS FINISH SECOND IN DIVISION 2 CHAMPIONSHIPS
Trumansburg won the Division 2 team title with 77 points, while Waverly tallied 53 points, third-place Chenango Valley had 46 pounds, fourth-place Sidney had 44.5 points, and fifth-place Delhi had 42 points.

Bechy won the 60-meter dash in a personal-best time of 6.65 seconds, and senior John Price was 26th in a time of 7.8 seconds.

Chandler won the 300-meter dash in 37.62 seconds, senior Treyton Moore placed sixth in 39.44 seconds, and junior Charlie Larrabee was 10th in 40.25 seconds. Chandler finished second in the 55-meter dash in a time of 8.45 seconds.

Chandler and Bechy teamed with Moore, and Larrabee to win the 800-meter relay in a time of 1:36.92.

The foursome of Price, junior Nehemiah Anthony, sophomore Braylon DeKay, and freshman Logan Roskow teamed to win the 1,600-meter relay in a time of 4:18.83.

Moore finished fourth in the 600-meter run in a time of 1:33.86, and freshman Hayden Howe was 16th in 1:46.65.

DeKay was 10th in the 1,000-meter run in 3:10.62, and Roskow was 14th in 3:14.36. DeKay was 21st in the 1,600-meter run in 5:36.57, and Roskow was 23rd in 5:46.5.

Freshman Mac Talada finished 24th in the shot put with a heave of 23-feet, 8 3/4-inches.

LADY WOLVERINES FINISH SIXTH AT DIVISION 2 CHAMPIONSHIPS
Junior Elizabeth Vaughn had a pair of top-four finishes, and sophomore Harper Minaker recorded a second-place finish to lead the Lady Wolverines to a sixth-place finish.

Sidney won the team title with 73 points, edging out runner-up BGAH, which had 66 points. Third-place Notre Dame had 47 points, while fourth-place Chenango Valley had 43 points, fifth-place Dryden had 40 points, and Waverly totaled 33 points.

Minaker finished second in the 3,000-meter run in a time of 12:02.74.

Vaughn finished third in the 1,500-meter run in a time of 5:23.01, and senior Josie VanDyke was 12th in 6:36.25.

Vaughn finished fourth in the 1,000-meter run in a time of 3:20.75, and freshman Mackenzie Chamberlain was eighth in 3:39.42.

Junior Haylie Davenport was fourth in the 1,500-meter race walk in a time of 9:07.27.

Senior Abbey Knolles was fourth in the 300-meter dash in 45.93 seconds, and sophomore Kendal Shaffer was 19th in 50.21 seconds.

Senior Kelsey Ward finished sixth in the 600-meter run in a time of 1:51.78.

Shaffer, Chamberlain, Davenport, and Ward teamed to finish eighth in a time of 2:04.82 in the 800-meter relay.

VanDyke finished 10th in the high jump, clearing the bar at 4-feet.

Knolles was 12th in the 60-meter dash in 8.07 seconds, and senior Natalie Garrity was 17th in 8.2 seconds.

Waverly returns to action Feb. 25 at the Section IV, State Qualifier at Cornell University.
About the Author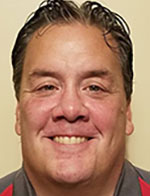 Tim Birney is the founder / owner of River Road Media Group. He was born and raised in the Valley, graduating from Waverly High School in 1984.
Birney earned an Associate's Degree in Journalism from SUNY Morrisville in 1986 and a Bachelor's Degree in Journalism / Public Relations from Utica College of Syracuse University in 1988. He began his newspaper career at The Daily Review in Towanda in 1989, before moving on to The Evening Times in 1995. He spent more than 10 years at the Times, the last four as Managing Editor.
River Road Media Group includes five sites in "The Sports Reports" family that cover 24 school districts in five counties: Valley Sports Report (launched Aug. 10, 2009), Tioga County (NY) Sports Report (Aug. 13, 2018), and Northern Tier Sports Report (Aug. 31, 2020); Northern Tier West Sports Report (March 15, 2021) Southern Tier Sports Report (Aug. 16, 2021).