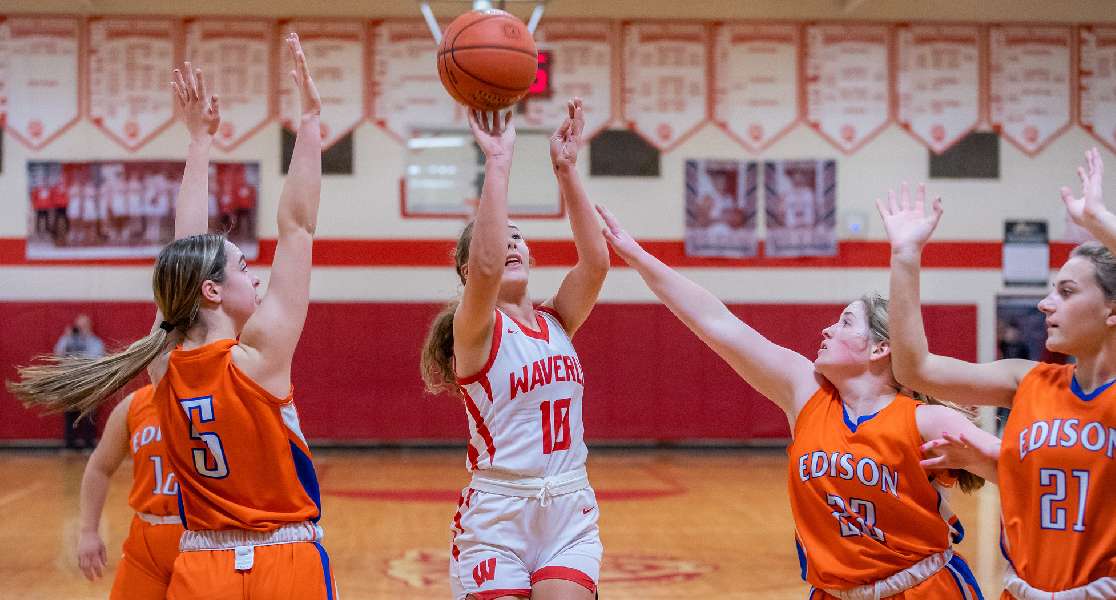 EDISON STUNS WAVERLY, 60-3
By: Tim Birney | Waverly Athletics | February 6, 2023 | Photo courtesy David Alliger
WAVERLY — It's often said "live by the three, and die by the three." Sometimes, though, you just get beat by the three as Waverly found out Tuesday night in a stunning 60-38 loss to Thomas A. Edison in IAC South Large School girls basketball action.

The Lady Wolverines have enjoyed a decided advantage from behind the 3-point arc all season, but Tuesday night Edison knocked down 12 3-pointers to Waverly's 2.

Waverly senior Kennedy Westbrook scored seven points in the first quarter, but Peyton Littlefield, Charlee Stroman, and Gabby Milazzo each knocked down treys to help the Lady Spartans to a 14-9 lead after the opening eight minutes.

Littlefield knocked down two more 3-pointers in the second quarter, and Stroman added her second to fuel a 13-4 run that put Edison up 27-13 at the half.

Gianna McGee joined the 3-point party for Edison in the third quarter with two treys and nine points, while LIttlefield was 8-for-8 from the free-throw line, and Stroman made her third 3-pointer in a 20-6 blitz that gave the Lady Spartans a 47-19 lead entering the final eight minutes.

Milazzo and Stroman opened the fourth quarter with 3-pointers in a 6-2 spurt that gave Edison its biggest lead, at 53-21, with 6:08 remaining in the contest.

Waverly finished the game with a 17-7 run to provide the final margin.

Kennedy Westbrook led Waverly with 21 points to surpass Kelly Thomas (1,006 points) and Jill Stolicker (1,010) on the school's all-time scoring list. Westbrook now has 1,023 points.

Junior Paige Robinson, and sophomore Addison Westbrook each scored five points in the loss.

Littlefield led Edison with 18 points, including a trio of 3-pointers, while McGee had 17 points, including a pair of 3-pointers, Stroman added 12 on four 3-pointers, and Milazzo chipped in with nine points on three 3-pointers.

Waverly, now 13-4, hosts Trumansburg Wednesday, and S-VE Friday.

About the Author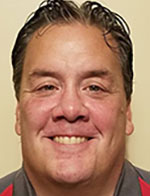 Tim Birney is the founder / owner of River Road Media Group. He was born and raised in the Valley, graduating from Waverly High School in 1984.
Birney earned an Associate's Degree in Journalism from SUNY Morrisville in 1986 and a Bachelor's Degree in Journalism / Public Relations from Utica College of Syracuse University in 1988. He began his newspaper career at The Daily Review in Towanda in 1989, before moving on to The Evening Times in 1995. He spent more than 10 years at the Times, the last four as Managing Editor.
River Road Media Group includes five sites in "The Sports Reports" family that cover 24 school districts in five counties: Valley Sports Report (launched Aug. 10, 2009), Tioga County (NY) Sports Report (Aug. 13, 2018), and Northern Tier Sports Report (Aug. 31, 2020); Northern Tier West Sports Report (March 15, 2021) Southern Tier Sports Report (Aug. 16, 2021).