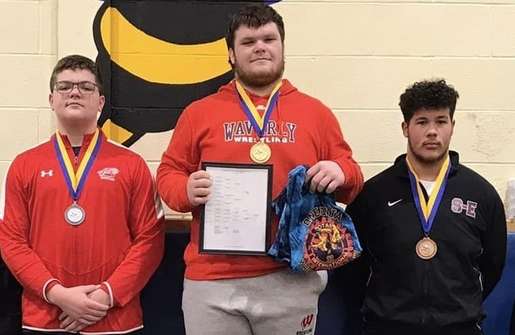 HILLS LEADS WAVERLY TO TEAM TITLE AT ONEONTA ROTARY TOURNAMENT
By: Tim Birney | Waverly Athletics | January 7, 2023 | Photo courtesy Sam Smith
ONEONTA — Sophomore Kam Hills won his weight class, while seniors Ty Beeman and Connor Stotler were runners-up to lead Waverly to the team title here Saturday at the 2023 Oneonta Rotary Tournament.

Seventh-grader Drayton DeKay, senior Braeden Hills, and 8th-grader Matthias Welles each finished third, and junior Josh Courtney was sixth for the Wolverines, who amassed 168 points to edge runner-up Cobleskill-Richmondville, which had 163 points, and third-place Carthage, which had 161.

Burnt Hills finished fourth with 143 points, and Walton-Delhi was fifth with 119.5 points.

"We wrestled well through adversity," said Waverly coach Devan Witman. "There were some matches I thought we should have won that put guys in the wrestlebacks, but it was those guys that had bonus points on the backside that won us the tournament.

"Drayton (DeKay), Braeden (Hills), and Matthias (Welles) picked up huge points for us in the consolation brackets," added Witman. "I was very impressed with the way each of them responded to a loss."

Kam Hills went 3-0 to win the 285-pound title, and didn't wrestle past the first period in any of those three bouts.

"Kam (Hills) wrestled well," said Witman. "He feels good being on the mat consistently, even though it was for very long each time."

He pinned Walton-Delhi's Hazzie Halstead in 1:22 in the quarterfinals, then decked fourth-seeded Brier Cox in 53 seconds in the semifinals.

In the championship match, Kam Hills pinned third-seeded Kamdyn Dorchester in 1:51.

Ty Beeman, the third seed at 215 pounds, finished second in the weight class, while his younger brother Troy, a freshman, finished fourth.

"Ty ran into an old foe," said WItman of Mitchell, who beat Ty Beeman last year in the finals of the IAC Championships. "We will see Mitchell a few more times this year, and it will be a battle every time."

Ty Beeman pinned Walton-Delhi's Landon Taylor in 3:29 in the round-of-16, then pinned Duanesburg's Dalton Cooper in 3:33 in the quarterfinals.

In the semifinals, Ty Beeman pinned seventh-seeded Jade Zakala in 2:43. Zakala pinned second-seeded Ethan Hernandez of Elmira in the quarterfinals.

In the 215-pound finals, top-seeded Donovan Mitchell of Groton scored a first-period takedown, and that was the difference in a 3-2 decision over Ty Beeman.

Troy Beeman pinned Unadilla Valley-Unatego's Nate Ackerley in 5:42 in the round-of-16, but lost via first-period fall to Mitchell in the quarterfinals.

Troy Beeman scored a pin of Taylor in 1:54 in his first wrestleback match, then forged a 14-6 major decision over Jon Lent of Saugerties.

Troy Beeman kept it rolling the consolation semifinals with a pin of Zakala in 4:00, but lost the third-place match via second-period fall to fourth-seeded Thomas Kennedy of Carthage.

At 145 pounds, Connor Stotler, the top seed, decked Carthage's Dylan Kilk in 45 seconds in the quarterfinals, then blanked fourth-seeded Abdeen Maggot of Unatego-Unadilla Valley, 7-0, in the semifinals.

In the finals, Burnt Hills' ace Colin Carlin forged a 15-5 major decision over Stotler.

"Connor wrestled well," said Witman. "He ran into a stud in the finals, but those are the matches we need to keep close to allow our conditioning to take over in the third period."

At 102 pounds, DeKay finished third, and did it the hard way.

DeKay dropped a 4-2 decision to fourth-seeded Hayden Robinson of Walton-Delhi in the quarterfinals, but bounced back to win four in a row in the consolation bracket.

DeKay started his run with a 10-4 decision over Saugerties' Santiago Chrisjohn, then pinned Chenango Forks' Peyton Hubbard in 4:45.

In the consolation semifinals, DeKay needed just 44 seconds to pin Walton-Delhi's Aiden Branigan, then edged Chenango Valley's Travis White, 4-2, in the third-place match.

At 160 pounds, Braeden Hills finished third in a more conventional style, losing in the semifinals, then winning two in a row in wrestlebacks.

Braeden Hills opened his day with a pin of Walton-Delhi's Travis Houck in 3:30, then dropped a 7-4 decision to second-seeded Sam Brenen-Buscek in the semifinals.

In the consolation semifinals, Braeden Hills forged a 12-3 major decision over Cobleskill-Richmondville's Dylan Gallagher. He pinned Oneonta's Alan Michael Rubin in 2:47 in the third-place match.

At 189 pounds, Welles won three in a row in wrestlebacks to finish in third place.

Welles scored a pin of Burnt Hills' Santino Mareno in 67 seconds in the round-of-16, but dropped a 13-6 decision to second-seeded Luke Pryor of Cobleskill-Richmondville in the quarterfinals.

Welles bounced back with a pin of Saugerties' Ezra Cataldo in 3:27, then pinned Elmira's Zahkyo Jenkins in 1:52 in the consolation semifinals.

In the third-place match, Welles pinned Walton-Delhi's Kamrin Stanton in 2:50.

At 126 pounds, Josh Courtney went 3-3 to finish sixth.

Courtney opened the day with a pin of Chenango Valley's Kyle Whitmarsh in 1:49 in the round-of-16, then lost a 12-2 decision to Carthage's Shay Sinitiere in the quarterfinals,

In wrestlebacks, Courtney reached the consolation semifinals with a pine of Saugerties' Myles Amell in 56 seconds, then topped Susquehanna Valley's Mark Moelder, 2-1.

Courtney ran into Sinitiere again in the consolation semis, then lost to BGAH's Jose Bivar in the fifth-place match.

At 110 pounds, Caden Bradley went 1-2.

He was knocked into wrestlebacks via second-period fall to Unatego-Unadilla Valley's Gavin Nordberg, but bounced back with a pin of Gavin Ingrassia of Saugerties in 4:45.

Bradley's day came to an end with a 3-1 loss to Carthage's Ayden Downing, who ended up finishing sixth.

Nico Rae (118), sophomore Jake Besecker (132), junior Braeden Nichols (138), Kevin Hollenbeck (152), and Nate Peters (172) each went 0-2.

Waverly hosts Dryden Wednesday.
About the Author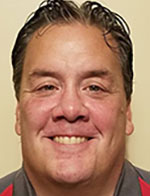 Tim Birney is the founder / owner of River Road Media Group. He was born and raised in the Valley, graduating from Waverly High School in 1984.
Birney earned an Associate's Degree in Journalism from SUNY Morrisville in 1986 and a Bachelor's Degree in Journalism / Public Relations from Utica College of Syracuse University in 1988. He began his newspaper career at The Daily Review in Towanda in 1989, before moving on to The Evening Times in 1995. He spent more than 10 years at the Times, the last four as Managing Editor.
River Road Media Group includes five sites in "The Sports Reports" family that cover 24 school districts in five counties: Valley Sports Report (launched Aug. 10, 2009), Tioga County (NY) Sports Report (Aug. 13, 2018), and Northern Tier Sports Report (Aug. 31, 2020); Northern Tier West Sports Report (March 15, 2021) Southern Tier Sports Report (Aug. 16, 2021).