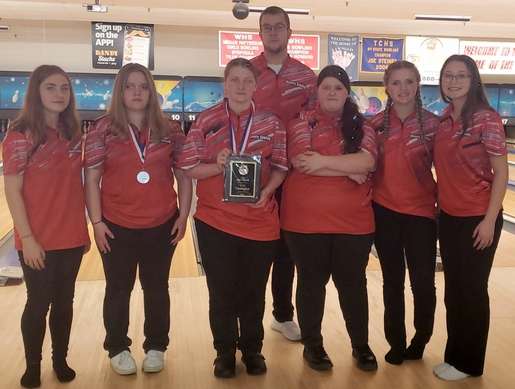 LADY WOLVERINES WIN LEAGUE CHAMPIONSHIP TOURNAMENT; WAVERLY BOYS FINISH THIRD
By: Tim Birney | Waverly Athletics | February 11, 2023 | Photo courtesy Dave Post
WAVERLY — The Waverly girls won the season-ending IAC League Championships Saturday, while the Waverly boys finished third in bowling action here at the Valley Bowling Center.

"You always need that one person to set the tempo and say 'this is how the day's going to go,'" said Waverly coach Derek Bowman. "it's especially good for us if it's Rachel (Houseknecht) — she's our lead-off (bowler); follow the train and she's the head of the train. That worked today.

"Last year's team was Houseknecht heavy with Rachel and Victoria leading the way." noted Bowman. "This year, Shantilly Decker and Serenity Conklin have come on. They put the hard work in.

"I'm super-proud of them. I wasn't sure what we'd get today," added Bowman. "We had a meeting before and I said 'the sky's the limit so we'll see (Saturday).' They bowled extremely well."

The Lady Wolverines rolled a three-game set of 2,850, topping runner-up Union Spring / Port Byron by 192 pins. Watkins Glen finished third at 2,533, while Candor was fourth at 2,358, Tioga was fifth at 2,266, and Groton was sixth at 2,250.

Waverly also rolled the high team game of the day with a 988.

Junior Rachel Houseknecht finished second on the day in the individual standings with a 628 series on games of 192, 236, and 200, while sophomore Serenity Conklin was fifth with a 586, including a 208, senior Shantilly Decker was sixth with a 582, including games of 209 and 205, and senior Victoria Houseknecht was seventh with a 567 series.

Seventh-grader Karis Hayes was 18th in the individual standings with a 487 series, and 8th-grader Emily Houseknecht tacked on a 367 series.

Rachel Houseknecht's 236 game was good for second on the day.

US / PB's Colleen Jump earned IAC gold with a 647 series, and a 237 high game.

WAVERLY BOYS FINISH THIRD AT LEAGUE CHAMPIONSHIPS
The Wolverines had a trio of bowlers roll 600 series, but they finished third in the team standings.

Newark Valley won the team title with 3,162 pins, while SVEC was second at 3,069, Waverly tallied 3,022, Lansing was fourth with 2,972 pins, and Edison was fifth with 2,794.

Ashton Pritchard paced the Wolverines with games of 202, 199, and 266 for a 667 series, which was good for sixth in the individual standings.

Freshman Derek Johnson was 13th with a 608 series on games of 201, 181, and 226, and senior Zach Vanderpool was 16th with a 601 on games of 204, 175, 222.

Junior Trenton Sindoni rolled a 547 for Waverly, including a 208, while senior Mike Cole shot a 532, including a 223, and freshman Tristan Campbell added a 524, including a 200.

The Wolverines did roll the high game of the day, finishing their series with an 1,137 in the third game.


Newark Valley's Lane Underwood won individual gold with a 752 series, while O-M's Dom Elliott won silver with a 749, and Candor's Calvin Curkendall won bronze with a 743.
US-PB's Matt Howell threw a 300 game.
About the Author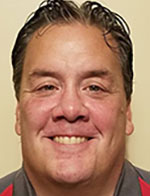 Tim Birney is the founder / owner of River Road Media Group. He was born and raised in the Valley, graduating from Waverly High School in 1984.
Birney earned an Associate's Degree in Journalism from SUNY Morrisville in 1986 and a Bachelor's Degree in Journalism / Public Relations from Utica College of Syracuse University in 1988. He began his newspaper career at The Daily Review in Towanda in 1989, before moving on to The Evening Times in 1995. He spent more than 10 years at the Times, the last four as Managing Editor.
River Road Media Group includes five sites in "The Sports Reports" family that cover 24 school districts in five counties: Valley Sports Report (launched Aug. 10, 2009), Tioga County (NY) Sports Report (Aug. 13, 2018), and Northern Tier Sports Report (Aug. 31, 2020); Northern Tier West Sports Report (March 15, 2021) Southern Tier Sports Report (Aug. 16, 2021).