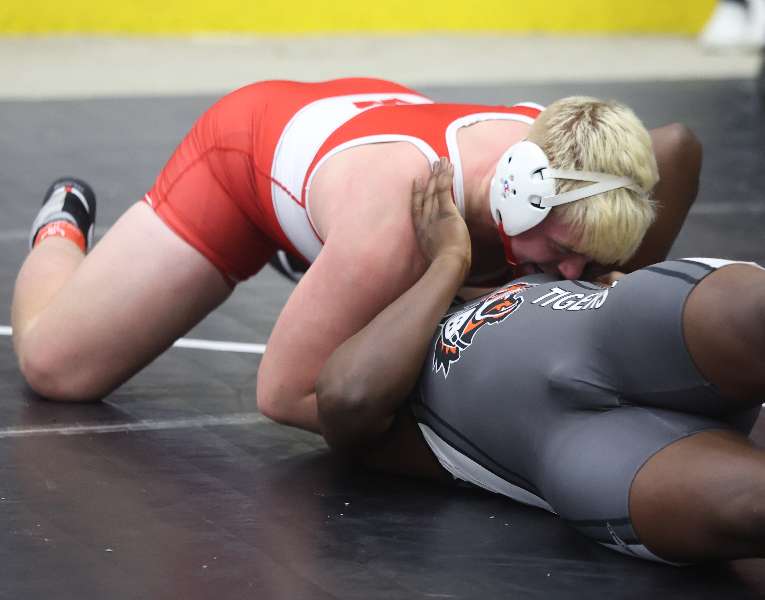 WAVERLY ADVANCES FOUR TO SEMIFINALS; TWO ALIVE IN WRESTLEBACKS — WOLVERINES IN 8TH PLACE AT SOUTHERN TIER MEMORIAL
By: Tim Birney | Waverly Athletics | January 13, 2023 | Photo courtesy Tim Birney
ELMIRA — Waverly's big men continue to shine, with four of them advancing to the semifinals of the inaugural Southern Tier Memorial wrestling tournament here Friday at The First Arena. The Wolverines, who are in eighth-place in the team standings, also have two still alive in wrestlebacks.

285-pounder sophomore Kam Hills, senior Ty Beeman and freshman Troy Beeman — both at 215, and 189-pound freshman Matthias Welles all advanced to the semis, while 189-pound senior Gage Tedesco, and 145-pounder senior Connor Stotler are alive in wrestlebacks.

"Not a bad day," said Waverly coach Devan Witman. "Even the guys who aren't in the tournament anymore picked up some wins, and showed some good things.

"Obviously, I'm super-proud of the four in the semis tomorrow," he noted "Hopefully, that success continues.

"And the two in wrestlebacks, I tell them 'third is the new first,'" he added.

Witman is impressed with his upper weights.

"We've have some of the most athletic upper weights across Section IV, and perhaps the State," said Witman. "What they lack in wrestling knowledge, they certainly make up for in athleticism and conditioning.

"They just keep on grinding," he noted. They're doing everything we ask … they're really shining right now."

Lake Highland Prep leads the team standings with 152 points and has 13 wrestlers in the semifinals, while Tioga is second with 121 points, Bellefonte is third with 100, Milton is fourth with 93, Horseheads is fifth with 89 points, and Longwood is sixth with 83. Waverly is in eight place at 63 points.

IN THE SEMIFINALS
At 189 pounds, Welles forged a 12-3 major decision over North Penn-Liberty's Easton Cleveland-Pequingot in the round-of-16, then pinned Tottenville's Dylan Pippitone in 2:59 in the quarterfinals.

Welles will face Horseheads' Hunter Lavigne in the semifinals. Lavigne upset second-seeded Griffin Goldstein of St. Anthony's in the quarterfinals.

At 215 pounds, freshman Troy Beeman pinned Williamson's Luke Sottolano in 1:31 in the opening round, then decked Auburn's Colton Hai in 69 seconds in the round-of-16.

In the quarterfinals, he received a medical forfeit from top-seeded Payton Cramer of Lake Highland.

Troy Beeman will face NP-Liberty's fourth-seeded George Valentine in the semifinals.

Also at 215 pounds, senior Ty Beeman decked St. Anthony's Salvatore Cascio in 1:19 in the round-of-16, then forged a 7-0 decision over U-E's Jaylon Yearwood in the quarterfinals.

In the semifinals, Troy Beeman will face second-seeded William Francois of Longwood.

At 285 pounds, top-seeded Kam Hills was 3-0 to advance to the semifinals.

Kam Hills opened with a 22-second pin of NP-Liberty's Gaven Roe, then decked St. Anthony's Collin Chiarelli in 21 seconds.

In the quarterfinals, Kam Hills scored a third-period takedown to edge Elmira's Alex McKerrow, 3-1.

He will face Vestal's Ean Conti in the semifinals.

ALIVE IN WRESTLEBACKS
At 145 pounds, Stotler pinned Edison's Greg Golden in 69 seconds in the opening round, and then pinned Tottenville's Youssef Mashaai in 2:32 in the round-of-16.

Stotler was knocked into the consolation bracket by top-seeded Ethan Mojena via a 19-2 technical fall at the final buzzer.

Stotler bounced back in the blood round with a 46-second fall of U-E's Josh Brunnabend

He will face Horseheads' Cael Owen in his next consolation bracket match.

At 189 pounds, Tedesco, who is just making his return from a season-ending football injury, won a 6-4 decision over Bellefonte Area's Addison Shawley, but was pinned by fourth-seeded Cole Bastian of Milton just one tick before the first-period buzzer.

In the blood round, Tedesco decked Williamson's Colton Bryant in 2:10.

He will face Shawley again Saturday morning.

ELIMINATED FRIDAY
At 102 pounds, 7th-grader Drayton DeKay lost by first-period fall to top-seeded Liam Davis of Highland Park in the round-of-16.

He bounced back in wrestlebacks with a pin of SVEC's Brennan Zimmer in 4:25, but was eliminated by Milton's Ty Locke with a second-period fall.

At 110 pounds, 8th-grader Caden Bradley was knocked into the consolation bracket by Longwood's Jagger Franco, who scored a third-period fall.

He bounced back with a 3-0 win over Tottenville's Eric Pinto in his first match of wrestlebacks, but lost a 10-0 major decision to SVEC's Rodney Vaow in the next round.

At 126 pounds, sophomore Jake Besecker was 0-2.

At 132 pounds, junior Braeden Nichols lost via second-period fall to top-seeded Zeno Moore of Lake Highland in the round-of-16.

Nichols bounced back with a pin of Auburn's Connor Barrier in 1:49, but was eliminated third-period by SVEC Kaden Jameson in his next match.

At 138 pounds, 8th-grader Parker Larson was 0-2.

At 152 pounds, freshman Kevin Hollenbeck was 0-2.

At 160 pounds, Braeden Hills pinned Tottenville's Ahmed Maashal in 47 seconds in the opening round, and received a bye in the quarterfinals, where he lost via first-period fall to top-seeded Ousmane Duncanson of Tigoa.

Hills was eliminated with a 7-3 loss to Horseheads' Liam Levantovich in the blood round.

Day 2 action is slated to resume at 9 a.m. with the semifinals.
About the Author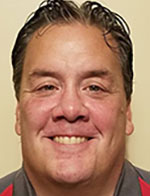 Tim Birney is the founder / owner of River Road Media Group. He was born and raised in the Valley, graduating from Waverly High School in 1984.
Birney earned an Associate's Degree in Journalism from SUNY Morrisville in 1986 and a Bachelor's Degree in Journalism / Public Relations from Utica College of Syracuse University in 1988. He began his newspaper career at The Daily Review in Towanda in 1989, before moving on to The Evening Times in 1995. He spent more than 10 years at the Times, the last four as Managing Editor.
River Road Media Group includes five sites in "The Sports Reports" family that cover 24 school districts in five counties: Valley Sports Report (launched Aug. 10, 2009), Tioga County (NY) Sports Report (Aug. 13, 2018), and Northern Tier Sports Report (Aug. 31, 2020); Northern Tier West Sports Report (March 15, 2021) Southern Tier Sports Report (Aug. 16, 2021).