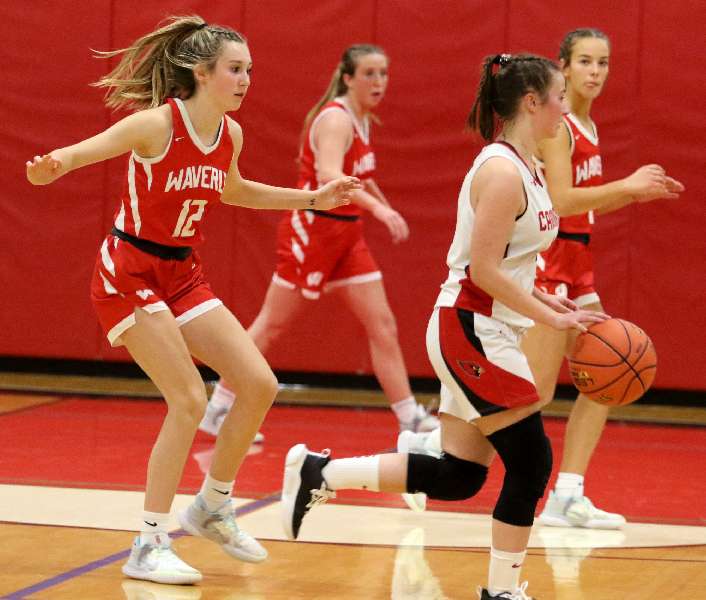 WAVERLY BATTLES HARD, BUT FALLS SHORT AGAINST NEWARK VALLEY
By: Tim Taylor | Waverly Athletics | January 18, 2023 | Photo courtesy Tim Taylor
NEWARK VALLEY — Waverly battled hard throughout the game, but came up short against Newark Valley in IAC South Large School girls basketball action Wednesday, dropping a 58-46 decision.

The Wolverines trailed by eight three different times during the third quarter and twice trimmed the gap to three, but could never get over the hump in the clash between the No. 7 and No. 19 state-ranked teams in Class B.

"I thought we were doing what we wanted to do," Waverly coach Bob Kelly said. "We just have to find a way to make baskets consistently. Right now that seems to be a problem with us.

"It's tough, especially against teams like that. They shot the ball pretty well. Obviously the big girl is tough. She's allowed to sit in the paint all night. It's tough to defend."

"We were still playing at their tempo more than I would've liked," NV coach Greg Schweiger said. "They're good at that, they speed you up. We were a little more disciplined in this game and ran a little better offense and did some things that we really wanted to do the first time and just didn't execute well down there, which we did up here.

"Just watching that game from both sides, I just thought both team's best players stepped up. Obviously, Kennedy had a great game for Waverly, and leads them and she was really good.

"And then my two guys, Hayley and Cha, had probably their best games of the season and they put it on their shoulders to get this win."

Gardner recorded her first triple-double while Beebe was able to score underneath, from downtown and at the free throw line, as well as dishing off and swiping it away from the Wolverines.

The final time Waverly inched the score close was late in the third quarter when the score was 36-33. That's when the Cardinals finally started to distance themselves from the determined visitors.

Hayley Beebe closed out the period with a basket, and a steal and layup, the latter coming at the buzzer to give NV a 40-33 lead.

Cha Gardner opened the final frame with a bucket and a 3-pointer to make it 45-33 and with the score at 45-34, Waverly was nailed with a technical foul.

Shortly afterward, the Wolverines appeared to show signs of frustration at calls — and non-calls — by the officials.

Kennedy Westbrook drew three fouls in less than a minute, although never fouled out.

Kelly said it can get frustrating.

"It's a physical game and it's a tough place to play," he said. "We're kind of used to it and I can understand them getting frustrated. They play hard, they play for 32 minutes, and one of these days we're going to get them."

Following the tech, NV knocked down nine of 12 free throws to pull away. Only four of the team's final 13 points came on field goals, both off the fingertips of Jasmine Graham.

The Cardinals looked like they might dominate early, going ahead 4-0 on a pair of Gardner baskets in the first two minutes.

The Wolverines had other plans. A 6-point burst gave them a 12-8 lead with Kennedy Westbrook providing the scoring spark and feeding Ashlen Croft for the go-ahead basket.

Westbrook's steal and layup gave Waverly a 16-11 advantage early in the second quarter, but Garner wrapped a pair of field goals around a Beebe 3-ball to put NV back on top, 18-16.

Beebe and Peyton Shaw swapped baskets, then Graham closed out the half with a bucket and a trey, making it 25-18.

Down, 26-18 early in the third period, Westbrook, Shaw and Croft sank consecutive field goals to pull the visitors within two.

Beebe responded with a 3-pointer and Westbrook sank a pair of free throws, Beebe hit another trey and Adriana Finta made a basket to make it an 8-point difference again at 34-26.

Addison Westbrook wrapped a bucket and a trey around a Gardner basket, then Kennedy Westbrook tacked on a field goal and it was once again a 3-point game, 36-33, heading into the final minute of the quarter.

Kennedy Westbrook paced the Wolverines with 20 points and Shaw added 11. Addison Westbrook and Ryleigh Jusdon chipped in with five apiece, Croft had four and Paige Robinson tacked on another point.

Gardner finished with 17 points, 13 rebounds and 12 blocks while Beebe pumped out 23 points with three treys and went 8-for-8 at the free throw line. Jasmine Graham had 11 points, Finta contributed five and Kalyna Graham added two.

Waverly slipped to 10-3 overall and 5-2 in the division while Newark Valley improved to 13-0 and 8-0.