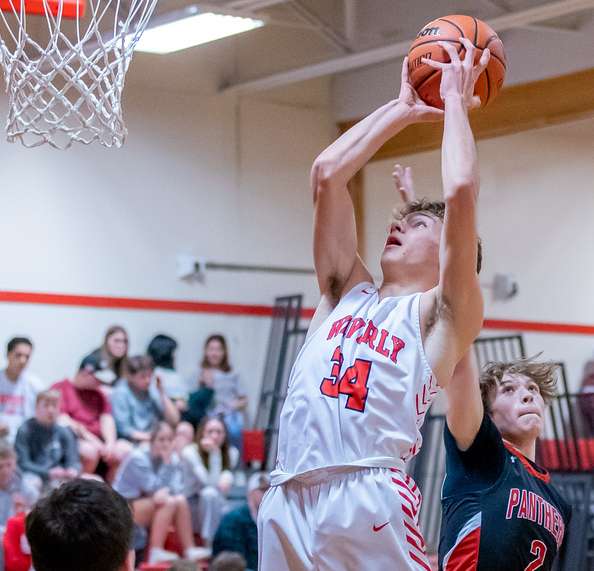 WAVERLY CAPS UNBEATEN LEAGUE SEASON WITH 81-15 DEMOLITION OF S-VE
By: Tim Birney | Waverly Athletics | February 9, 2023
WAVERLY — Waverly capped an unbeaten regular season in league play for the first time since the 2016-17 season here Thursday night with an 81-15 demolition of S-VE in IAC South boys basketball action.

"Overall, I'm very pleased with how we played tonight," said Waverly coach Lou Judson.

"Hogan (Shaw) got his first varsity start and didn't disappoint," he noted. "Our forwards dominated the glass, and Jay Pipher is developing in to one of the best point guards in the area with his play at both ends of the floor."

Playing without junior Joey Tomasso, who is averaging 30 points per game, the Wolverines raced out to a 23-point first-quarter lead.

Junior Jake VanHouten, who canned a pair of 3-pointers, and junior Jay Pipher scored nine points apiece, and freshman Hogan Shaw added five points in a 29-6 blitz in the opening eight minutes.

Shaw added eight points in the second quarter, including his second and third 3-pointers of the game, and VanHouten and senior Isaiah Bretz scored four points apiece to fuel a 21-3 run that gave Waverly a 50-9 advantage at the half.

VanHouten scored eight points, and Shaw, and junior Thomas Morley each knocked down 3-pointers in a 20-6 third-quarter run that extended the lead to 70-15 entering the final eight minutes.

Junior Jake Benjamin scored seven points, including a 3-pointer, in the fourth quarter to spark a game-closing 11-0 run.

VanHouten had 21 points, nine rebounds, and two blocked shots to lead Waverly, while Shaw scored a career-high 16 points, including four 3-pointers, and had three rebonds, and two assists, and Pipher had 11 points, eight rebounds, seven assists, and six steals

Bretz had 10 points, five rebounds, four steals, and one blocked shot in the win, while Benjamin scored a career-high nine points, and hauled down 11 rebounds, junior Jon Searles had seven points, six boards, three steals, and two blocked shots, sophomore Payton Fravel added four points and three rebounds, and senior Nate DeLill grabbed seven boards.

Hunter Harmon led S-VE with eight points.

Waverly, now 17-2, returns to action Feb. 17 against Lansing in the IAC overall Large School championship game at Tompkins-Cortland Community College. Game time is 7:30 p.m.
About the Author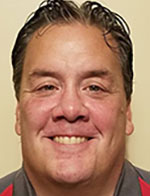 Tim Birney is the founder / owner of River Road Media Group. He was born and raised in the Valley, graduating from Waverly High School in 1984.
Birney earned an Associate's Degree in Journalism from SUNY Morrisville in 1986 and a Bachelor's Degree in Journalism / Public Relations from Utica College of Syracuse University in 1988. He began his newspaper career at The Daily Review in Towanda in 1989, before moving on to The Evening Times in 1995. He spent more than 10 years at the Times, the last four as Managing Editor.
River Road Media Group includes five sites in "The Sports Reports" family that cover 24 school districts in five counties: Valley Sports Report (launched Aug. 10, 2009), Tioga County (NY) Sports Report (Aug. 13, 2018), and Northern Tier Sports Report (Aug. 31, 2020); Northern Tier West Sports Report (March 15, 2021) Southern Tier Sports Report (Aug. 16, 2021).