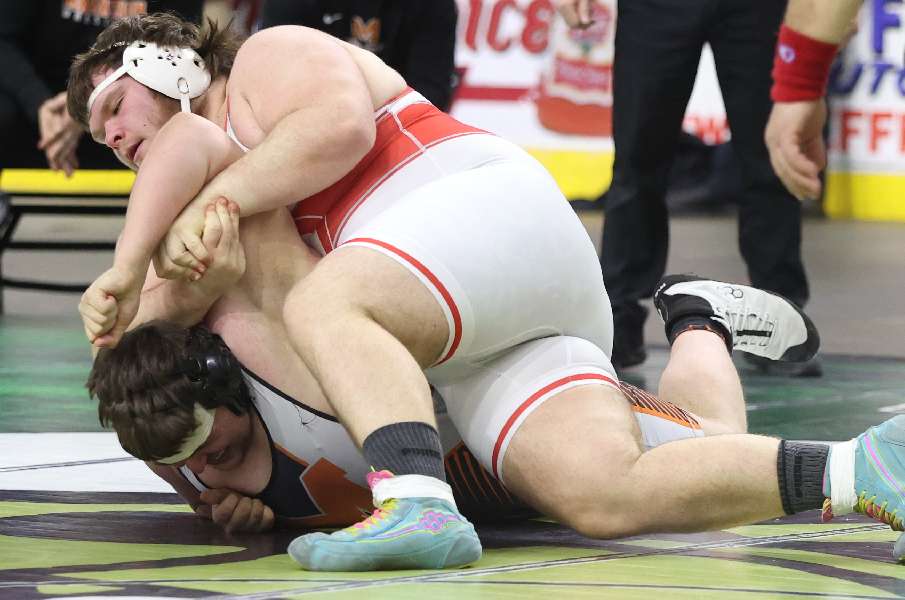 WAVERLY PLACES SECOND AT DIVISION 2 CHAMPIONSHIPS; SENDS FIVE TO STATES
By: Tim Birney | Waverly Athletics | February 11, 2023 | Photo courtesy Tim Taylor
BINGHAMTON — Led by 285-pound champ, sophomore Kam Hills, Waverly qualified five wrestlers to the New York State Division 2 Championships — its largest contingent since 2009 — and placed second in the team standings here Saturday at the Section IV, Division 2 Championships at the Broome County Arena.

Tioga won its sixth consecutive Division 2 team title with 209 points, while Waverly tallied 129, third-place Windsor had 107 points, and fourth-place Windsor had 90.

Joining Kam Hills at States in two weeks will be 8th-grader Matthias Welles, who placed second at 189 pounds, senior Connor Stotler, who placed second at 152 pounds in his first action since breaking his collar bone on Jan. 14 at the Southern Tier Memorial, freshman Troy Beeman, who placed third at 285 pounds,, and senior Braeden Hills (Kam's brother), who was third at 160 pounds.

Seventh-grader Drayton DeKay and junior Josh Courtney also reached the podium. DeKay placed fourth at 102 pounds, and Courtney placed sixth at 132 pounds.

"It's definitely the most we've gotten to States in a long, long time," said Waverly coach Devan Witman. "It's really just a testament to the type of season we've had, and the work these boys have put in.

"It's a grind, every single day," noted WItman. "They put on their shoes, they get in the room, and they get to work.

"I'm super-proud of the way we performed today," he added.

There was one dark cloud on Waverly's day as senior Ty Beeman, who qualified for States last year, did not place. After waking up sick in the middle of the night, Ty Beeman attempted to qualify, winning his first match, then losing his second, and defaulting out of the remainder of the tournament.

"It's definitely heart-breaking, my heart goes out to Ty," said Witman. "He's the hardest working guy in the room, it's a shame it had to end that way.

"But I told Ty it's better to wrestle and try, than to wake up tomorrow knowing you didn't give it a shot," noted Witman.

"He should be going to Albany with us, but it just wasn't in the cards," he added.

Kam Hills, the top seed, pinned his way to his second straight Section IV title, and improved to 19-1 on the season.

Kam Hills decked BGAH's Elliott Briggs in 63 seconds in the quarterfinals, then pinned Troy Beeman in 73 seconds in the semifinals.

In the finals, Kam Hills pinned Marathon's Logan Jamison in 1:28. He beat Jamison, 6-2, last year in the finals.

"Kam is just on another level than he was a year ago," said Witman. "He just continues to get better and better each time he steps out on the mat.

"He's working super-hard, putting in the extra work," added Witman. "I can't wait to see what he does in Albany this year."

The Wolverines doubled their pleasure at 285 pounds with Troy Beeman finishing third to earn a trip to States.

Troy Beeman, the fourth seed, pinned Dryden's Kaydin Hinckley in 3:14 in the quarterfinals, before running into Kam Hills.

He bounced back from the first-period fall with a pin of Windsor's Jaycob Mann in 3:23 in the consolation semifinals, and a pin of Norwich's Robert McIntyre in 2:00 in the third-place match.

"I tried everything I could to get Troy (Beeman) on the opposite side of the bracket from Kam (Hills) because I truly think it could have been the finals," said Witman.

"Troy ran into a hammer on his own team in the semis, but the way he reacted to the loss and came back for third was incredible — getting two pins on the backside decisively.

"Personally, I think he was the second best in the bracket," added Witman. "Hopefully, we get the chance to prove that in Albany."

Stotler, who was wrestling at 145 pounds when he injured his collar bone, bumped up to 152 for the postseason. Stotler, who is a two-time Section IV place-winner, including a fifth-place finisher last year, received a medical exemption into Saturday's action after not wrestling at last week's qualifier.

Stotler, the second seed at 152, pinned Marathon's Anthony Neville in 35 seconds in the quarterfinals, and Walton / Delhi's Peyton Tweedie in 59 seconds in the semifinals, before issuing a medial forfeit to Lansing's Anthony McMillen in the finals.

"Four weeks, almost to the day, he broke his collar bone, and we all thought his season, and career was over," said Witman. "His rest, rehab, and getting cleared to wrestle today was huge.

"This was the plan: get two matches, get them done quickly, and get to Albany," noted Witman.

"We had to evaluate what was more important — a Section title, or a state place-finish; and we decided a state place-finish was more important," continued Witman. "He got to the finals, and we didn't want to test fate.

"Now he's got two more weeks to get healthy, and it will bring him to the full six-week recovery," added Witman.

Welles, the fourth seed at 189 pounds, forged a hard-fought 11-6 decision over fifth-seed Kamrin Stanton of Walton / Delhi in the quarterfinals, then upended top-seeded Hunter Page of Oxford-Greene, 6-3, in the semifinals.

"There were quite a few surprises in this tournament today, and I'm glad we got to be part of one of them with Matthias (Welles) beating the top seed," said Witman. "We had a game plan, and he followed it to perfection.

"I had been studying Hunter (Page) … we don't get to see him that often, but we had film," noted Witman. "We knew it was a match we could get if we stayed in position.

"(Matthias) is in good enough shape to break kids in the third period, and that's what he did," added Witman.

Welles lost via fall in 5:00 to Oneonta's Mateo Goodhue in the finals.

Braeden Hills took the long way to Albany on Saturday, after losing his quarter-final bout via third-period fall to Owego sophomore Bobby Struble.

Braeden Hills bounced back with a pin of Newark Valley's John Turnbull in 1:35, and an 8-3 decision over Oneonta's Alan Michael Rubin to get into the consolation semifinals, where he beat M-E's Logan McGuire, 5-2.

In the third-place match, Braeden Hills came out on top in a pair of scrambles that ended up as five-point moves to erase a 4-1 deficit, and turn it into an 11-5 win over Struble to avenge the quarter-final loss.

"Braeden Hills has come a long way," said Witman. "If you had seen him wrestle in ninth grade, and I told you he was headed to Albany for States, you would think that I was crazy.

"He's put in a lot of work. He's super-strong, and he's very tough to wrestle," noted Witman. "He definitely deserve a shot at Albany.

"I'm proud of the progression he's made from 9th-grade to taking a year off for Covid, to last year to this year," added Witman. "Over the past two years, Braeden has probably been our top scorer in tournaments and in dual meets."

Seventh-grader Drayton DeKay, the fourth seed at 102, narrowly missed a trip to Albany with his fourth-place finish.

DeKay opened with a 5-0 win over fifth-seeded Trevor Middendorf of Newark Valley, then lost via second-period fall to top seed and eventual champion Maverick Beckwith of Norwich in the semifinals.

In the consolation semifinals, DeKay forged an 11-2 major decision over Walton-Delhi's Logan Robinson. DeKay dropped a 7-2 decision to second-seeded Logan Bellis of Tioga in the third-place match.

"Drayton has put in a tremendous amount of work in the weight room, and the wrestling room. To come up one match shy is heartbreaking," said Witman.

"He lost to someone who deserves to be in Albany, but I also believes Drayton deserves to be in Albany. It just didn't work out for him.

"I told him this will be the last time he's sitting at home at the end of February … he's got five years left, and he's only going to continue to get better," noted Witman. "I was super-proud of his performance."

Courtney, the sixth seed at 132 pounds, upended third-seeded Brendan Gumaer of Marathon, 2-1, in the quarterfinals, but lost via technical fall to Deposit-Hancock's Landen Estus in the semifinals.

Courtney dropped an 11-6 decision to Susquehanna Valley's Mark Moelder in the consolation semifinals, then dropped a 9-0 major decision to Windsor's Tim Boyce in the fifth-place match.

"Josh (Courtney) did a good job coming in as the sixth seed, and upsetting the third seed in the first round," said Witman.

"He ran into a hammer (Estes) in the semis, then just didn't wrestle his matches coming back through," noted Witman.

"He has one more year left, and if he continues to work, I definitely see him going to Albany next year," he added.

Eighth-grader Caden Bradley, the ninth-seed at 110 pounds, lost an 8-0 major decision to ninth-seeded Logan Woodlin of Newark Valley in the opening round, then lost via second-period fall to Tioga's Kaydin Cole in the first round of wrestlebacks.

"Caden Bradley, for his first time at Sectionals, did a good job," said Witman.

"He was a grinder for us all season," noted Witman. "At certification, I don't think he had any idea he was going to make 110 pounds, but he worked his way down, and he filled that void in our line-up toward the end of the season, and he did it tremendously.

"He is one of our most improved kids this year from where he started in November," he added. "I'm super-proud of the season he had."

The New York State Division 2 Championships are at the Times-Union Arena in Albany on Feb. 24-25.
About the Author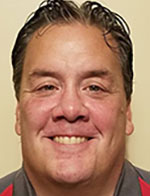 Tim Birney is the founder / owner of River Road Media Group. He was born and raised in the Valley, graduating from Waverly High School in 1984.
Birney earned an Associate's Degree in Journalism from SUNY Morrisville in 1986 and a Bachelor's Degree in Journalism / Public Relations from Utica College of Syracuse University in 1988. He began his newspaper career at The Daily Review in Towanda in 1989, before moving on to The Evening Times in 1995. He spent more than 10 years at the Times, the last four as Managing Editor.
River Road Media Group includes five sites in "The Sports Reports" family that cover 24 school districts in five counties: Valley Sports Report (launched Aug. 10, 2009), Tioga County (NY) Sports Report (Aug. 13, 2018), and Northern Tier Sports Report (Aug. 31, 2020); Northern Tier West Sports Report (March 15, 2021) Southern Tier Sports Report (Aug. 16, 2021).