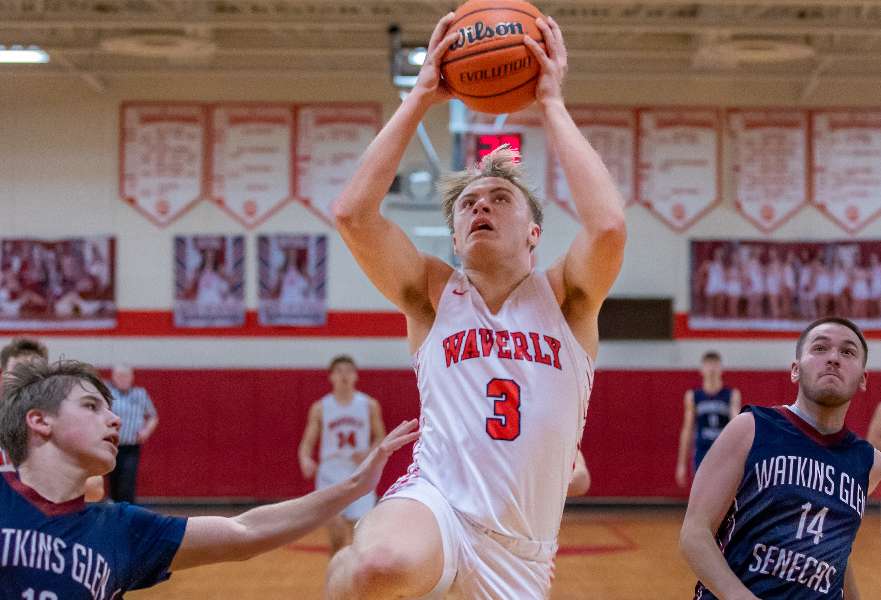 WAVERLY SHAKES OFF 'FLAT' FIRST HALF; TOPS WATKINS GLEN, 66-4
By: Tim Birney | Waverly Athletics | February 2, 2023 | Photo courtesy David Alliger
WAVERLY — After a fiery halftime talking to by coach Lou Judson, Waverly shook off a "flat" first half to post a 66-42 win over Watkins Glen here Thursday night in IAC South Large School boys basketball action.

The Wolverines were up eight at the half, but Judson was not pleased with his team's performance. He characterized his "pep talk" as "intense, heated, passionate."

"These guys know better. They're experienced, so they knew what was coming," said Judson. "The effort and energy we played with in the first half was unacceptable for this type of basketball team.

"We're the type of basketball team that needs to get after with a lot of energy, and play defense," he noted. "Tonight, we just came out flat in the first half; for whatever reason, I don't know.

"(Watkins Glen) played a pretty good half. Defensively, we were OK, but we just weren't playing our style of game.

"We had a nice talk at halftime, reminding ourselves what makes this team click, and that's playing with a lot of passion and energy," added Judson. "We decided to play our style in the second half, got after it defensively, and were a totally different basketball team."

The Wolverines improve to 14-2 on the season.

"We've been playing so well," said Judson. "It's tough to sustain that.

"Watkins Glen played pretty well," added Judson. "At the end of the night, you look up and we won by 24."

Junior Jay Pipher knocked down a 3-pointer, and scored five points to lead Waverly to a 12-5 lead after the first eight minutes.

Junior Joey Tomasso scored seven points in the second quarter, and Pipher scored five more points, including another 3-pointer, but Waverly only added one point to its lead, taking a 26-18 lead into the half.

Pipher canned a pair of 3-pointers in the third quarter, while junior Jake VanHouten and Tomasso, who was 4-for-4 from the foul line, scored four points apiece, and freshman Hogan Shaw connected on a 3-pointer in a 23-13 run that gave the Wolverines a 49-31 advantage heading into the final eight minutes.

Tomasso scored eight points, including a pair of 3-pointers in the fourth quarter, while VanHouten scored four points, and sophomore Payton Fravel added a 3-pointer as Waverly outscored the Senecas, 17-11.

Tomasso led Waverly with 21 points, seven rebounds, and three assists. It was only the third time this season, he's been held under 30 points in a game.

Pipher had 16 points, including four 3-pointers, six rebounds, four assists, and three steals for the Wolverines, and VanHouten had 10 points, seven rebounds, and two blocked shots.

"(Watkins Glen did a pretty good job on Joey for the entire game," said Judson.

"Jay Pipher played an outstanding basketball game tonight," noted Judson. "He really was our offense for a lot of the game.

"Jake VanHouten, who picked up two quick fouls and didn't play much in the first half, came on late in the game, and got some steals in transition to get us going," he added.

Senior Isaiah Bretz added eight points, three boards, and three steals in the win, and senior Nate DeLill grabbed four rebounds.

The Wolverines shot 41 percent (24 of 58) from the field, including 33 percent (8 of 24) from behind the 3-point arc.

"We had a lot of looks around the rim that we normally make, but their long — 6-5 and 6-6 inside," said Judson.

The Wolverines host Tioga Saturday afternoon. The JV game is slated to tip off at 2 p.m.

"We need to play better as we move forward, and we definitely need to play better Saturday against Tioga," said Judson.
About the Author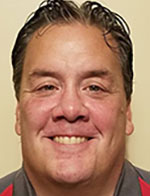 Tim Birney is the founder / owner of River Road Media Group. He was born and raised in the Valley, graduating from Waverly High School in 1984.
Birney earned an Associate's Degree in Journalism from SUNY Morrisville in 1986 and a Bachelor's Degree in Journalism / Public Relations from Utica College of Syracuse University in 1988. He began his newspaper career at The Daily Review in Towanda in 1989, before moving on to The Evening Times in 1995. He spent more than 10 years at the Times, the last four as Managing Editor.
River Road Media Group includes five sites in "The Sports Reports" family that cover 24 school districts in five counties: Valley Sports Report (launched Aug. 10, 2009), Tioga County (NY) Sports Report (Aug. 13, 2018), and Northern Tier Sports Report (Aug. 31, 2020); Northern Tier West Sports Report (March 15, 2021) Southern Tier Sports Report (Aug. 16, 2021).